Often used in manufacturing plants, warehouses, and some large storage facilities to quickly and easily move pallets of goods, pallet jacks provide a simple and easy method of moving heavy objects from one location to another. Simple to operate and effective with pallets designed to support large amounts of weight, pallet jacks usually are constructed with blades that slide under the pallet and are gently lifted with the use of a hydraulic motor.
There are two different types of pallet jacks in common usage today. The most simplistic is the manual pallet jack. Ideal for use in warehouses where pallets are stored mainly at ground level, the manual jack resembles a dolly that features forks on the front end. The operator walks behind the manual jack, controlling the direction of the jack with a simple steering mechanism. The forks are slid underneath a pallet, and the operator uses a lever to gently active the lifting mechanism on the device. The manual jacks are then used to walk the elevated pallet over to a new location on the warehouse or plant floor.
For storage situations where pallets are recessed in tall pallet racks or stacked in layers of two or more, powered pallet jacks are a better solution. These types of jacks contain make use of a small platform for the operator to stand on. A motor provides extra power for lifting pallets out of a pallet rack and stabilizing the load so that the pallet can be transported to another location. A throttle allows the operator to move the jack back and forth, as well as control the angle of the loaded pallet on the forks or blades.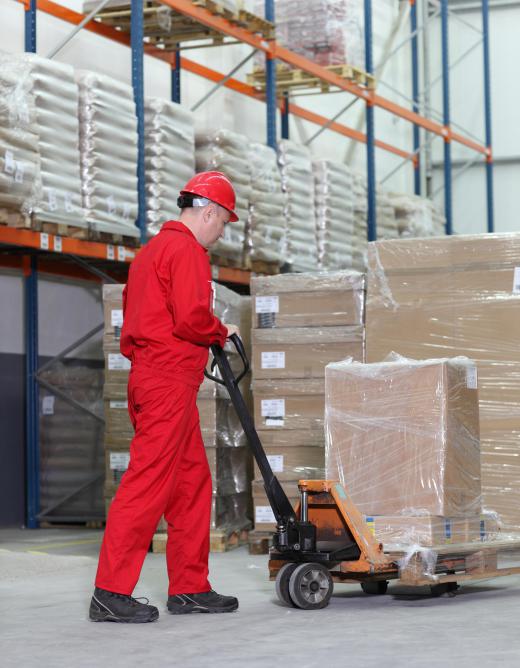 Powered pallet jacks also are often constructed with a seating area for the operator. When this configuration is used, the device is usually referred to as a pallet truck. Pallet trucks are very similar to forklifts, and provide much of the same type of maneuverability. Unlike forklifts, the pallet trucks tend to be built for use in an indoor facility, rather than being constructed for both indoor and outdoor use.
AS FEATURED ON:
AS FEATURED ON:







By: Lagui

Pallet jacks are designed to quickly and easily move heavy goods.

By: endostock

Pallet jacks are particularly useful in large storage facilities.

By: sharplaninac

Pallet jacks are constructed with blades that slide under pallets of goods.