Sometimes known as pallet bags, pallet covers are secure coverings designed to fit across the top and sides of a pallet or stack of pallets. Covers are manufactured using several different types of materials, with some intended for one-time usage and others constructed to hold up to repeated use. A pallet cover can help to protect any goods stored on a pallet from damage during transit, as well as provide an easy way to protect a stack of pallets from the elements if they must be stored outside.
In general structure, the typical pallet cover is a form-fitting sheath that slides over the top of the pallet stack and can be secured along the base. Depending on the actual design, the cover may use simple elastic along the edges to hold the sheath in place, in a manner somewhat similar to the way a fitted sheet is held in place on a mattress. More sophisticated designs employ the use of zippers or snaps down each corner of the sides of the device, making it possible to adjust the fit from loose to snug.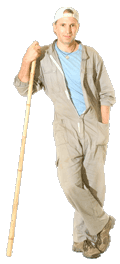 A disposable pallet cover is often constructed using simple plastic that is similar to the material used to make disposable shower curtain liners. Relatively inexpensive, a pallet cover of this type can be used several times, then discarded. While offering minimal protection, these covers do aid in keeping goods in place while the pallet is in transit, and can also offer some protection for pallets that must be stored in areas where they are subjected to rain or must set in sunshine for much of the day.
For more permanent protection, there are pallet cover designs that are constructed with thick nylon or polyester shells that are stain and tear resistant. These designs are normally quilted or filled with some type of material, effectively providing additional cushioning for the pallets or goods they protect. The insulation properties of these more expensive pallet cover options can also help to prevent any goods stored underneath from extreme changes in heat or cold. Many include the use of snaps or some other feature that makes it easy to adjust the cover to the dimensions required, and still create a snug fit.
A pallet cover may be used in a manufacturing setting to protect raw materials or finished goods that are positioned on pallets and stored in warehouses. There are also situations where the covers are used during shipping, providing an additional layer of protection to products during transit. There are a number of industrial supply businesses that offer covers of all types and price ranges to commercial customers, making it possible to select and purchase the right pallet cover for just about any situation.
AS FEATURED ON:
AS FEATURED ON:







Worker