Quality control is a process that is used to ensure a certain level of quality in a product or service. It might include whatever actions a business deems necessary to provide for the control and verification of certain characteristics of a product or service. Most often, it involves thoroughly examining and testing the quality of products or the results of services. The basic goal of this process is to ensure that the products or services that are provided meet specific requirements and characteristics, such as being dependable, satisfactory, safe and fiscally sound.
Companies that engage in quality control typically have a team of workers who focus on testing a certain number of products or observing services being done. The products or services that are examined usually are chosen at random. The goal of the quality control team is to identify products or services that do not meet a company's specified standards of quality. If a problem is identified, the job of a quality control team or professional might involve stopping production or service until the problem has been corrected. Depending on the particular service or product as well as the type of problem identified, production or services might not cease entirely.
Usually, it is not the job of the quality control team or professional to correct quality issues. Typically, other individuals are involved in the process of discovering the cause of quality issues and fixing them. After the problems are overcome and the proper quality has been achieved, the product or service continues production or implementation as usual.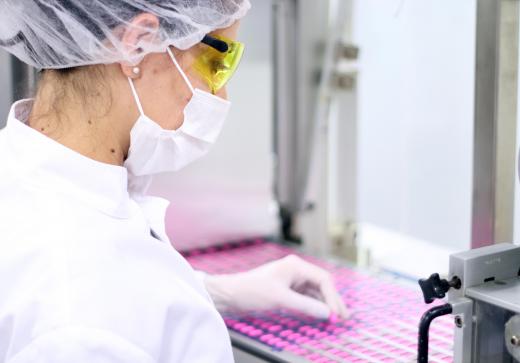 Many types of businesses perform these types of quality checks. Manufacturers of food products, for example, often have employees who test the finished products for taste and other qualities. Clothing manufacturers have workers inspect garments to ensure that they are properly sewn. Service-oriented companies often have representatives who observe the services being performed or who do follow-up checks to ensure that everything was done properly.
Quality control also might involve evaluating people. If a company has employees who don't have adequate skills or training, have trouble understanding directions or are misinformed, the quality of the company's products or services might be diminished. This is especially important for service-oriented companies, because the employees are the product that they provide to customers.
Often, quality control is confused with quality assurance. Though the two are similar, but there are some basic differences. Quality control is concerned with examining the product or service — the end result ‐ and quality assurance is concerned with examining the process that leads to the end result. A company would use quality assurance to ensure that a product is manufactured in the right way, thereby reducing or eliminating potential problems with the quality of the final product.
What Is the Difference Between Quality Control and Quality Assurance?
Quality assurance oversees the process that leads to the finished product, while quality control tests the final product to ensure it meets expectations. Both departments are vital to any business and often work together to solve problems. Here's a closer look at each specialization to understand their differences.
Quality Assurance
The quality assurance department oversees a company's process used to get a final product. It may include the following job requirements:
Inspect the manufacturing line to ensure all employees follow guidelines to guarantee the quality of the product.
Identify faster and less expensive ways to produce the final product.
Determine ways to improve workflow.
Design employee training curriculum.
Preparing quality assurance reports.
Developing testing methods.
Quality assurance specialists are vital to any company because they ensure that the system creates the best product while also improving the business.
Quality Control
While quality assurance is comprehensive in oversight, quality control is a very specialized area. Employees in this department focus primarily on testing the product or service. In manufacturing, this may be a sample of the finished item, while at other times it may be a piece from the middle of the line. This analysis allows the company to monitor where the problems are.
While quality control identifies issues with the product, quality assurance determines how to fix the problem. Similarly, in service industries, quality control focuses on the customer's satisfaction, while quality assurance monitors the performance of the employees.
Who Is Signed to Quality Control?
Quality control technicians may have different backgrounds depending on a business's industry. While any of these positions demands that analysts pay close attention to detail, be proficient in analyzing data, and understand quality regulations, various industries may also have unique job requirements.
Food and Pharmaceutical Manufacturing
People who work in quality control within food and pharmaceutical manufacturing may have degrees in chemistry because of the high level of analysis that this position requires. These industries are highly regulated, and their products must meet strict federal guidelines. Technicians in this industry verify that all ingredients are in the amounts they should be, ensure no foreign particles are in the product and test for appearance, taste, and effectiveness.
Electronics Manufacturing
Quality control within the electronics field is also highly specialized, but it differs from food and pharmaceutical manufacturers. Some companies, such as those in the microchip business, conduct quality control testing in clean rooms. Workers must be trained not only how to perform microscopic electronic tests but also how to follow the cleanroom regulations. Employees may have a background in electronics assembly or engineering.
Automotive Manufacturing
Another industry that relies heavily on quality control is the automotive industry. From raw materials to OEM parts and final assembly, each part of the vehicle must meet the company's guidelines according to government regulations for safety and other considerations. Many manufacturers use Six-Sigma to reduce waste, improve processes and put the customer first. Technicians in this industry receive additional training to obtain a Six-Sigma certification.
Service Industries
When a company's product is its employees, quality control is done differently from manufacturing. These QC specialists generally don't need to have a degree in a particular industry, but having work experience in the specific service area they analyze is beneficial. For example, a quality control specialist in the restaurant industry may monitor customer reviews, use social media to interact with customers and participate in secret shopper visits. Having previous experience in the restaurant industry makes it easier for a person to identify problem areas and recommend improvements. However, an employee with a restaurant background may not be helpful for a plumbing business. This company would benefit more from a person with a plumbing background.
Why Is Quality Control Important?
A company only remains in business as long as its product or service stays in demand. People want the best, so companies must deliver it. Quality control is vital for any business because it ensures that the product or service meets customers' expectations. QC technicians help companies by:
Ensuring their raw products meet their company's standards
Preventing defective products from being sold to customers
Identifying dangers immediately to prevent a recall
Saving their employer money by identifying problems before numerous products need to be discarded
Improving production or service methods to be as efficient and cost-saving as possible
Increasing revenue by enforcing strict regulations to consistently ensure a high-quality product
Companies that put a lot of focus on quality control are better positioned to remain competitive in any market.
AS FEATURED ON:
AS FEATURED ON:







By: RGtimeline

Quality control employees inspect milling equipment for irregularities that could damage products.

By: RGtimeline

In the pharmaceutical industry, quality control may involve inspecting the final product for defects, contamination or general accuracy.

By: Lisa F. Young

Quality control is a process that ensures a certain level of quality in industrial and service processes.