The term "yellow goods" is used in two very different ways. In one sense, it can refer to heavy duty equipment which is used on construction sites and in similar locales, such as bulldozers and cranes. In another sense, it refers to a specific category of consumer goods. The meaning intended is usually clear from the context, as the two contexts tend to come up in very different places.
When people are talking about earthmoving equipment, yellow goods includes the equipment itself as well as replacement parts and tools for maintenance. Large companies and government agencies may maintain their own goods, viewing the initial investment as worth it in the long term. The equipment must be handled by specially trained operators who are familiar with the details of using the equipment, as well as the safety procedures which must be observed to keep them safely operational. This represents the need for an additional investment in finding and training operators.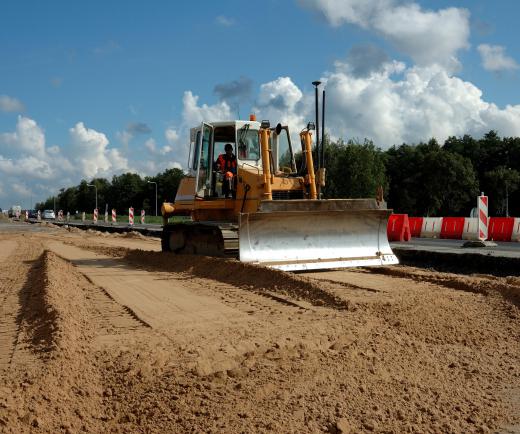 It is also possible to rent yellow goods. Because the equipment is so expensive, small companies may not be able to afford it, or may feel that rental is more cost effective. People who need access to this equipment for a single project will also generally opt for rental, with an equipment operator accompanying the rental equipment to make sure that it is used properly. For example, someone who wants to dig out a pond could hire a bulldozer and operator for the day, or a construction company could bring in rented heavy equipment to prepare a worksite.
In the realm of consumer goods, yellow goods are large, expensive items which will last a long time. The turnover for this equipment is very low, and the profit margin is high, since a company anticipates that consumers will only buy yellow goods a few times in their lives. Some examples include large appliances like stoves and refrigerators, which presumably will not be replaced for years and possibly decades.
This is in contrast with orange goods, which are replaced periodically as needed. Clothes and furniture are good examples of orange goods. Red goods, with food being a classic example, are replaced on a regular basis and have a very low profit margin. The company makes up for low profits on individual sales by selling in very high volume; people buy a refrigerator only once, but they will keep buying cartons of milk to put in it.
AS FEATURED ON:
AS FEATURED ON:







By: mihashenk

"Yellow goods" can refer to heavy equipment used on construction sites, such as bulldozers.