A log saw is a saw that is made or used for the purpose of cutting through logs. A saw is a tool consisting of a wire or a blade with a serrated edge that can cut through softer substances. In almost all cases, a log saw will be made out of metal because of its durability and capacity to remain sharp. Saws come in many different shapes and sizes; they can be large enough to require two people to operate them or they can be small and motorized. Manual log saws were widely used in the early logging industry, though modern logging enterprises usually use motorized or even computerized equipment.
A log saw can be made out of several different materials, depending on the planned intensity of its use. Brass can be used for low-cost saws and is seldom used for serious and intense work. Steel is much more commonly used because of its price and relative strength. Steel easily meets the needs of most saw users, though some prefer to spend less money and others need more durable equipment. Diamond can be combined with metal to form especially durable saw blades, though these are typically used for cutting materials such as concrete and stone rather than wood.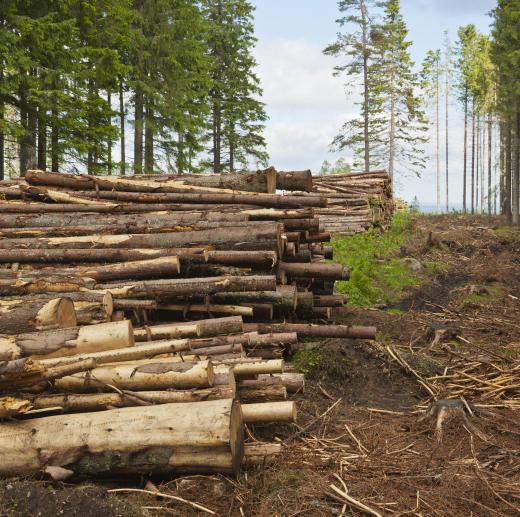 Based on the needs at hand, a log saw of one kind or another can be used to fell a tree or to cut the tree into boards. Usually, the same log saw is not applied to each task. It is common for an individual to use a log chainsaw to fell a tree because the saw's motorized nature makes the task relatively quick. It also saves the worker from the energy required to fell a tree with an ax or nonmotorized saw. Such manual means were the norm during the early years of the logging industry, though they have been widely replaced in modern times.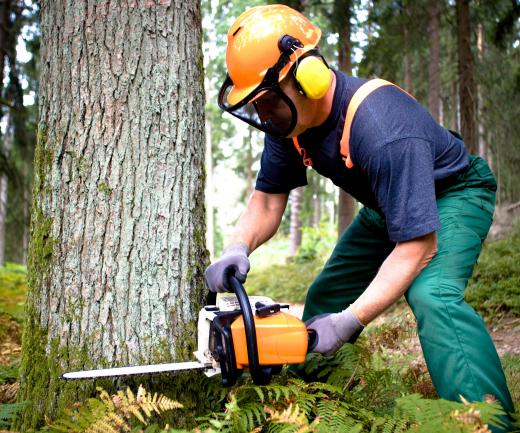 After a tree has been felled and its branches have been removed, it is often sent to a sawmill where some form of log saw is used to cut it into usable boards. At a sawmill, logs are cut to appropriate sizes, excess wood is removed, and the finished boards are prepared for shipping to their next destinations. At one time, a lot of hard manual labor went into this process as men manually sawed the logs to the appropriate shapes and sizes. Modern sawmills, however, are largely automated and require little human guidance.
AS FEATURED ON:
AS FEATURED ON:







By: Lars Johansson

Logging involves cutting down trees so that they can be made into consumer products.

By: Val Thoermer

A man using a log chainsaw.