What is Galvanized Steel Plate?
Galvanized steel plate is a piece of metal that has been treated with additional chemical processes to protect it from the natural elements. Specifically, steel plate is bonded with zinc alloy at the molecular level to create a watertight barrier that will last in some instances for the life of the metal. This process essentially makes galvanized steel plate rust-proof and very resistant to moisture. The product is then suitable for many indoor and outdoor construction uses since it has an expanded overall lifespan.
The process to create galvanized steel plate begins with pure iron, which is heated to reduce the presence of carbon within the metal. This can only be accomplished at extremely high temperatures, and then afterward, it is rapidly cooled in water or another chemical solution in order for it to harden with the greatest possible density. Following the cooling process, the steel sheets are then dipped in the solution of liquefied zinc to allow the chemical bonding process to occur. A measure of the level of galvanizing is the final step before shipping the sheets off to a retail store.
Smaller items like nails and wall studs are individually placed through the exact same process to ensure that their outer coats are galvanized sufficiently for the item to last. Even though there will be zinc mixed in throughout the steel, by far the thickest coating will remain on the exterior. The core of the galvanized steel plate will also likely remain close to pure steel, which is intentional to provide as much strength as possible. By combining both the strength of steel and the resistive qualities of zinc, there are few other metallic options that can stand up to its overall performance levels.
Galvanized steel plate is used in a variety of household appliances due to its durability when compared to other metals; one of the most common uses is within products like hot water heaters. It can also make a good option for many different types of building supplies because it's relatively low-cost when compared to other types of metal. Since galvanized steel plate can be expected to last several decades before the anti-corrosive treatment begins to wear off under normal circumstances, it is also a popular choice in everything from sheds to roofing to vehicle components.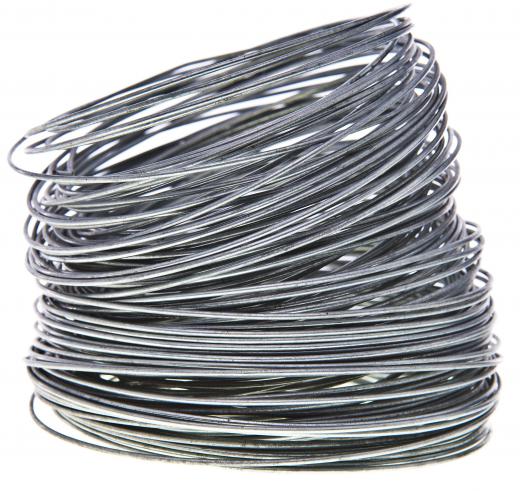 One of the downsides to using galvanized steel plates is that the outer zinc coating will eventually either rust or chip away, which allows the oxidation process to begin on the steel itself. To counteract this decaying process, the metal is often painted with an anti-corrosive paint every so often to prevent this from happening. Structures like bridges and dams that frequently deal with water and high winds require this type of coating annually, where building pylons and beams may only require treatment every five to 10 years. For example, the Golden Gate Bridge in the US city of San Francisco, California, is painted with a red lead-based primer continuously throughout the year in order to prevent rust from ever forming.
AS FEATURED ON:
AS FEATURED ON:







By: pseudo obscure

A steel quonset hut made with galvanized steel plates.

By: Oleksandr Dibrova

The Golden Gate Bridge has been treated with a special primer to prevent rust from forming on it.

By: Jon Le-Bon

Galvanized metals are often produced through a hot dip process.

By: chirnoagarazvan

Galvanized steel plate is often cut and welded using an oxyfuel torch.

By: Moreno Soppelsa

Galvanization -- the applying of protective zinc coatings to steel or iron -- is often performed using special machines at production factories.