What is Galvanized Steel Cable?
Galvanization is a process of treating steel and other metals with a coat of zinc to prevent corrosion. The level of protection is determined by the thickness of the rust-proof zinc. Galvanized steel cable is cable made from steel that has a zinc coating.
The use of zinc to provide a waterproof coating for metal can be traced back to a French chemist named P. J. Malouin, who formally presented the process in 1772. It was not until 1837, however, that a French engineer took out the first patent on a galvanization process. Galvanization quickly became very popular in Great Britain where wet weather takes a toll on metal products, and the first galvanization plant was finally opened in the United States in 1870. This process has become the preferred choice of waterproof treatment for metal products which are exposed to the elements.
The most common method for coating steel used to make galvanized steel cable is a hot dip process, a procedure which has been popular for over one and a half centuries. Steel cable is immersed into a vat of molten zinc. The iron in the steel reacts chemically with the zinc, forming a series of zinc/iron alloy layers which bond the steel and zinc together. The level of rust resistance is determined by the thickness of the zinc layer.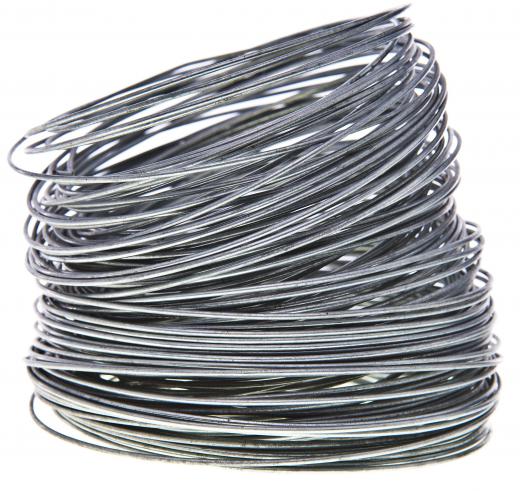 Galvanized steel cable is used in a broad spectrum of industries, including utilities, paper and pulp, manufacturing, automotive, aircraft, communications and appliances. It comes in a variety of sizes ranging from 100 pounds (45.36 kg) to over 14,000 pounds (6350.29 kg) minimum break strength and in a variety of diameters. Break strength refers to the amount of pressure or weight the cable can withstand before it breaks. For example, cable used in conveyor systems would require greater break strength than that used for appliances or automotive controls. Some cable, like that used in conjunction with locks, is often made from braided steel for extra strength and flexibility.
Some aircraft applications require the cable to have an additional nylon jacket. Galvanized aircraft cable designed for use in aircraft controls is usually made from stainless steel. This type differs from the commercial grade aircraft cable found in slings and winch lines. If a galvanized steel cable is going to be used for marine purposes, the manufacturer will often integrate plastic into the mix. An extra vinyl or nylon coating may be applied to increase corrosion and abrasion resistance.
AS FEATURED ON:
AS FEATURED ON:







By: alephcomo1

Galvanization is a process of treating steel and other metals with a coat of zinc to prevent corrosion.

By: Jon Le-Bon

Most galvanized steel cable is produced through a hot dip process.

By: Moreno Soppelsa

Galvanization -- the applying of protective zinc coatings to steel or iron -- is often performed using special machines at production factories.