What Is a Structural Beam?
A structural beam is a component used in construction to add strength to any structure or design. Manufactured of steel, concrete or wood, the structural beam is typically used to span an open element of a structure, as well as to give support underneath a very heavy component of a structure. In iron work, the steel I beam is the most common type of beam used, while wooden beams are typically used in home construction. Concrete structural beam manufacture often involves a steel I beam being encased in concrete for use in building bridges, buildings and other concrete structures. Other beam styles are made up of C channel, angle iron and round steel pipe.
The use of a structural beam is typically applied to large, open expanses, such as over large doorways and windows or openings from one room to another in a family home. It is also common to use a structural beam to divide the floor above a basement or crawl space. The use of the beam provides a solid structural component on which to place the inner end of the floor joists to prevent bouncing or sagging of the finished floor. This type of structural beam is typically manufactured of steel I beam, however, manufactured wooden beams are becoming more popular.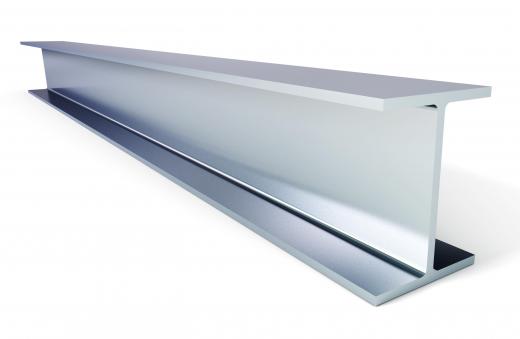 The basic I shape is commonly used not only in the manufacture of the steel I beam, it is also the common shape of the manufactured wooden beam. The I shape provides superior strength against bending when used in horizontal applications. The I beam is also used in vertical applications, such as pillars or pilings. The typical structural beam is installed in a flat and level position, however, some beams used in the building of bridges as well as reinforcing inside of concrete road supports are typically installed pre-arched or pre-stressed.
A pre-stressed beam will allow the beam to provide increased support for heavier loads. Depending on design, a round, steel pipe will provide greater strength than a similarly-sized angle iron or C channel, but an I beam properly placed will provide superior strength when placed under a similar load. The I type structural beam is preferred in applications where only a vertical force is pushing down on the beam, however, in applications that might include not only downward forces but back and forth forces as well, the I type structural beam could allow shifting of the materials in the building.
AS FEATURED ON:
AS FEATURED ON:







Steel I-beam.

By: andrey_plant

Structural beams are used in bridge creation.

By: leekris

Wooden structural beams are commonly used in home construction.