A steel I-beam is a type of joist or girder made from structural steel. I-beams are used as major support trusses in building, to ensure that a structure will be physically sound. Steel is one of the most common materials used to make I-beams, since it can withstand very heavy loads, although other materials, such as aluminum, are sometimes used. Composite I-beams are also available, with layers of other materials encasing the outside of the steel to disguise it as something else, such as wood.
The shape of a steel I-beam strongly resembles a capital "I" in cross section, which explains the name. It has a strong central core capped with flanges on either side. Various lengths of beam are available to suit construction project needs, and each beam also carries a rating, indicating how large it is and how much weight it is able to bear. When engineers are designing a structure, they determine what the load limits of the I-beams used in the structure should be.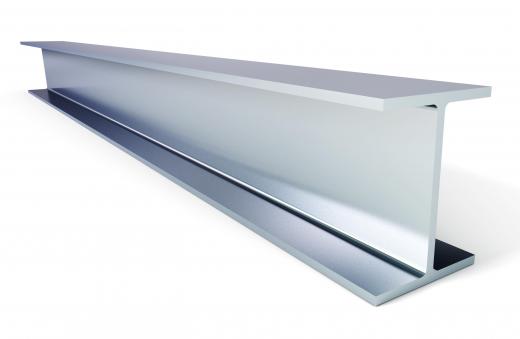 There are advantages and disadvantages to using steel I-beams in construction. They are much less likely to bend or warp than wood, allowing builders to use them to create large open spaces that would not be possible with ordinary wooden beams. A steel beam also does not need to be as large as a wooden one bearing the same load, so the support beams in a structure do not need to be so obtrusive. Steel can fail catastrophically if exposed to heat, however, making it necessary to insulate the beam for safety.
Several fabrication techniques are used to create steel I-beams. Many are rolled or extruded, processed on metalworking machinery that creates standardized beams very rapidly. Others, sometimes called plate girders, are made by riveting or welding together sections of steel plate. However the I-beam is manufactured, it will be extremely heavy, requiring strong workers and specialized equipment to be handled.
When a house is renovated, steel I-beams may be used to replace old structural supports. When removing structural supports, it is crucial to know how much weight they are supporting and how they have been installed. For this reason, it is highly recommended that homeowners use professionally certified individuals for construction work that may involve removing such supports to ensure that they do not compromise the structural integrity of the home.
AS FEATURED ON:
AS FEATURED ON:







Steel I-beam.

Steel I-beam lifted by a crane.

By: slgckgc

Rusty I-beam.

By: tiero

In addition to the I-beam, steel beams are manufactured in a number of shapes and lengths.

By: Vibe Images

Steel I-beams are used extensively in construction.