What Is a Sheet Metal Screw?
A sheet metal screw is a type of hardware used for fastening metal objects. It consists of a threaded shank with a flat or rounded head. Unlike wood screws, which are only partially threaded, a sheet metal screw has a shank that is threaded down its entire length. The threads and tip of the screw are sharp, which allows them to easily cut through metal, wood and other objects. These screws are used to secure one metal object to another, or to fasten metal items to wood, plastic or various other materials.
Sheet metal screw size is commonly given using a series of three numbers, which represent the diameter, thread count and length of each screw. For example, a screw listed as 8-32 x 1" has a diameter of size 8, contains 32 threads per inch, and is one inch (2.5 cm) long. The diameter of a sheet metal screw is determined using a chart created by the American National Standards Institute (ANSI), where a size of 8 may equate to a number of different sizes depending on the type of screw.
There are two basic types of sheet metal screws on the market. Standard units have a pointed tip that is designed to cut through metal. The metal must be pre-drilled before these screws are used. Self-tapping or thread cutting screws have a notched tip that can easily cut through metal without the need for pre-drilling.
The head of a sheet metal screw may have one of several different shapes, depending on the intended function. Pan or round-headed screws will extend above the surface of an object once they are installed. Flat or oval countersunk screws will sit flush with the top of an object once they are installed. This reduces wind resistance and may also improve the appearance of the installation. These screws may have Phillips, flat, or square slots depending on the type of tool used for installing them.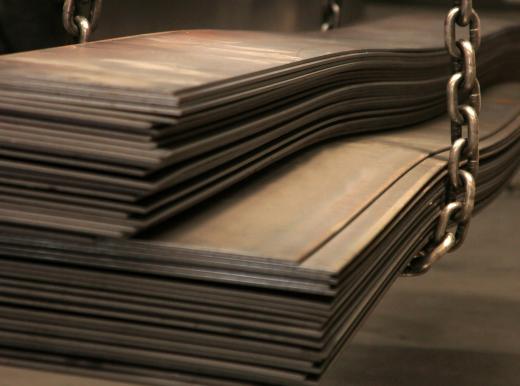 Sheet metal screws can be made from a variety of different materials, each with different properties and benefits. Standard carbon steel is the most common, and typically the most economical. These screws are subject to rust or corrosion when exposed to moisture or chemicals, and should not typically be used outdoors. Galvanized or stainless steel screws are designed to resist rust and corrosion, though they generally cost more than standard steel units. Brass or bronze screws are also available, and may be coated with zinc or nickel to modify their appearance.
AS FEATURED ON:
AS FEATURED ON:







Various nuts, bolts and screws.

By: Kybele

Pieces of sheet metal might be secured to each other or to another surface with sheet metal screws.