A drill chuck is the part of a drill that holds the rotating bit. Drill chucks are designed to hold the bit tightly and not loosen even when there is a high amount of torque. They can also be used to hold other types of rotating tools, such as screwdrivers or rotating spades for making large holes. Drill chucks can be keyed or keyless, depending on the preference of the user and the requirements of the tool.
A keyed drill chuck requires a removable key to open and close it. The key is a T-shaped tool that is inserted next to the chuck. When the chuck key is turned, it moves a gear that makes the collar rotate around the jaws to open or close them. A keyless drill chuck works on a similar principle, but instead of a key, the user turns the chuck with a sleeve at the end of the drill to open and close the jaws. Some people prefer keyless chucks, especially for home power drills, because the chuck key can easily be misplaced. However, a keyed chuck can hold the bit more tightly since it gives more torque and can be tightened by hand more efficiently using less force.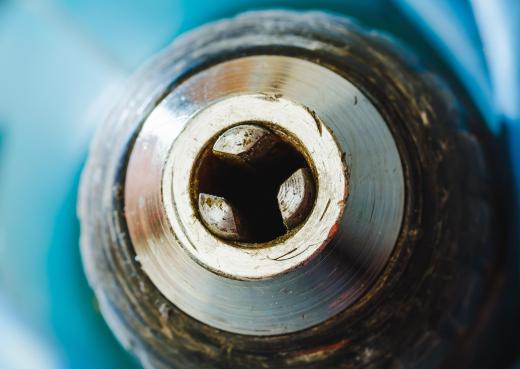 Some drill chucks have up to six jaws, depending on how thick the surfaces are that the drill needs to penetrate. The more jaws a chuck has, the stronger it is. Four jaws are needed in a drill chuck that will hold a square bit. Most power drill chucks for home use have three jaws, and they are self-centering. This means that the three jaws move inwards and outwards evenly to grip a round bit and hold it straight. Drill chucks with independent jaws are used to hold oval bits, or in specialized jobs that require a great deal of precision in centering the bit.
A self-centering drill chuck works with a rotating collar much like a nut. The threads on the inside of the collar are angled so that when the collar is turned, it creates a motion that moves the jaws together. This design is very advantageous for a drill because it allows a user to open and close it easily, but it will not open easily from the torque of the drill. Some drill chucks have an auto-tightening feature which is designed to become tighter when the drill suddenly encounters a surface requiring increased torque.
AS FEATURED ON:
AS FEATURED ON:







By: Mikhail Ulyannikov

Drill chucks have a number of jaws that grip various rotating bits.

By: sandrex

Drill chucks are designed to hold the bit tightly when being used despite high levels of torque.

By: Gresei

Drill chucks may be designed to hold other tools, such as a screwdriver.

By: CandyBox Images

The more jaws a drill chuck has, the more resistance it can withstand.