A power drill is a tool that implements various-sized drill-bit attachments to drill a hole into an object such as wood. It is a motorized piece of machinery that is commonly used in construction and for building material needs. Machinists, welders and construction workers often use power drills in their jobs. Many power drills are cordless varieties, allowing for better convenience, while others are corded. Primarily, most power drills are used for drilling materials such as wood, plastic and metal.
Although power drills are frequently used in factories and workshops, there is a growing need for this apparatus in the home. Many individuals prefer to take on home projects themselves, such as assembling or building furniture, or performing tasks that might involve drilling. With this in mind, it is common to find a good selection of power drill tools for retail sale.
Within the main components of a power drill, the motor provides the key function. A high-speed torque direct current (DC) brushed motor is typically used in many of the cordless models. Another essential component of the power drill would be the power supply itself. It is either powered by an electrical cord or a rechargeable battery pack. A common and popular voltage is the 12-volt battery, as this provides a good balance—it can generally be used for the high-voltage drill and low-voltage drill.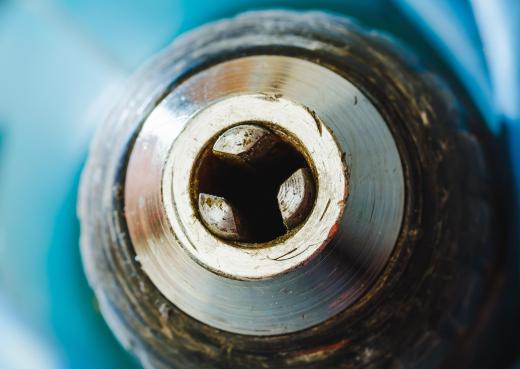 The power tool drill typically will include different speed selection settings. This is to ensure the proper speed can be adjusted accordingly for every requirement and task. It will also enable an effortless and smooth transition between jobs. Most common settings will generally range anywhere from zero to 650 revolutions per minute (RPM).
Many power drills come standard with a double-ended screwdriver bit. Various projects and repair jobs require different-sized drill bits. This is why there are so many accessories that are available for the power drill tool. These are often available in packaged sets and might include screw driving sets, titanium drill bits or black oxide drill bits. The titanium varieties generally are professionally-graded quality and offer a more efficient performance.
In changing screw bits, the power drill typically will feature a multi-position clutch. This makes it easy to switch bits quickly without awkward shifting. Most drills will come equipped with a standard six-position clutch, although some of the older, less expensive models might have less. Many of the newer models feature a keyless, chuck which also makes for effortless drill bit changes.
AS FEATURED ON:
AS FEATURED ON:







By: mbongo

A power drill is commonly used in construction.

By: Mikhail Ulyannikov

Many power drill models feature a keyless chuck which makes for effortless drill bit changes.

By: CandyBox Images

Power drills are used to drill holes and install screws.