What are the Different Types of Plumber Services?
Plumbers repair and install water, waste and other plumbing systems. A wide variety of plumber services are available. Some of the most common plumber services are emergency services to detect leaks, to unclog pipes and drains and to replace worn garbage disposals, water heaters and other household appliances. Plumbers also remove tree roots from sewage systems, reroute pipes and perform preventative inspections of new and existing properties. Emergency plumber services typically are more expensive than routine maintenance services.
Leak detection plumbing services include reviewing water meters for unusually high readings, which can indicate leakages. Searching for a leak might take a few hours of a plumber's time and can include cutting holes in walls to look at pipes and pipe fittings. Food, hair and other things can clog kitchen and bathroom sinks. Plumber services to clear clogged drains and pipes involve using rooter machines, plumbers' snakes and hydrojetting.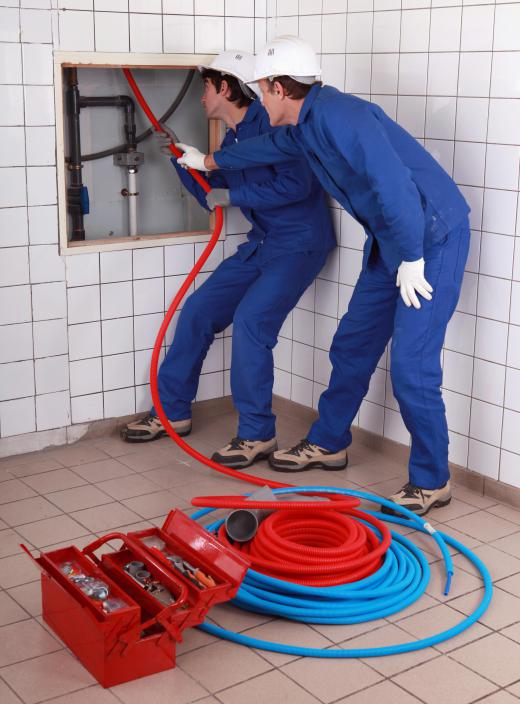 Rooter machines have rotating blades hooked to cables that spin and clear messes. Plumbers' snakes, also called augers, reach into pipes to clear clogs and come in different lengths; some have cameras attached so plumbers can see inside the pipes. Hydrojetting involves using high-pressure water to clean and unclog pipes, sewer lines and septic systems.
When garbage disposals become worn from use, plumber services might be required to install new ones or to repair damaged parts on existing disposals. Repair of a damaged disposal can include replacing broken parts and fittings or replacing the entire unit. Water heater replacement is one of the most common emergency calls that plumbers receive. Replacement of a water heater often takes two to three hours and is a rather specialized service best done by a professional plumber because water heaters must comply with local building codes.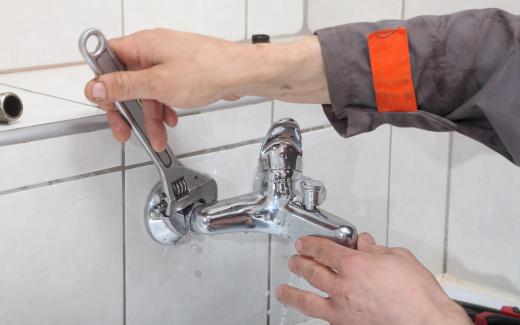 Tree roots can grow into sewage pipes and cause toilet backups. Plumbers can use their specially outfitted snakes to look into pipes and identify where the roots are and then remove them. Rerouting pipes is often necessary during home remodeling or when pipes are old and leaky, and professional plumbers include rerouting and repiping in their services. Rerouting involves changing the configuration of pipes to mesh with the bathroom or kitchen's new design or to close off leaking or damaged pipes.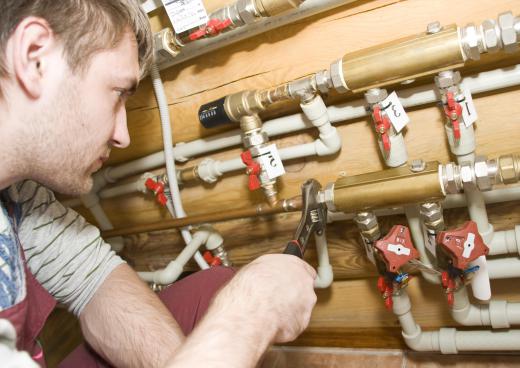 Plumber services also include preventative inspections of plumbing systems, which can preclude many problems from even occurring. A preventative inspection by a plumber might be performed when a home is being bought or sold. It generally includes visually reviewing pipes and fixtures, checking faucets for leaks, testing the flow of drains and more.
AS FEATURED ON:
AS FEATURED ON:







By: auremar

Plumbers may be called upon to root the pipes at a public facility.

By: ussatlantis

Plumbers will check for leaky faucets when performing a preventative inspection.

By: sima

A plumber may be responsible for installing water fixtures.

By: Nomad_Soul

The detection and repair of leaks is a common service offered by plumbers.

By: John Takai

Sometimes a plumber can clear clogged drains using plumber's snake, a long tool that can break up hair and other objects deep inside a pipe.

By: Jiri Hera

Plumbers sometimes deal with tree roots that can grow into sewage pipes and cause toilet backups.

By: auremar

Some plumbers focus on installing pipes in new construction.