What are the Different Types of Aggregate Crushers?
An aggregate crusher is a machine designed to grind or pulverize various types of rock into small, relatively uniform pieces. Aggregate crushers are used in mining, quarrying and recycling operations. Several types of crushers can perform this task including hammer mills, roller crushers, jaw crushers and gyratory crushers. An aggregate crusher can be relatively small, like the mobile units used for reclaiming recycled asphalt, or huge machines that can process thousands of tons of material a day.
Hammer mills are machines with a rotating shaft that is fitted with free-swinging hammers. This assembly is enclosed by a drum and fed by a hopper. A screen keeps material inside the drum until the rotating hammers pulverize it into pieces of the desired size. These types of aggregate crushers are commonly used to produce crushed stone for landscaping or to process recycled asphalt. Hammer mills are sometimes known as impact crushers.
Jaw crushers are the aggregate crushers that are most often employed in large mining or quarrying operations. A jaw crusher is designed to crush large pieces of ore or rock between two plates or jaws. One jaw is stationary, and the other is mounted so that the two jaws form a V-shape. The second jaw moves back and forth relative to the first jaw, crushing the material as it moves downward, until the pieces are small enough to fall through the opening at the point of the V. Multiple aggregate crushers of the jaw type are often employed in a series, gradually reducing the particle size.
Another type of crusher used to pulverize softer types of rock like sandstone is the roller mill. The rough pieces of rock are fed into a mechanism consisting of rollers that are usually fitted with teeth that interlock with teeth on an opposite roller as they rotate. These teeth grasp the pieces of rock to be crushed and force them between the rollers where they are crushed and fed out the other side.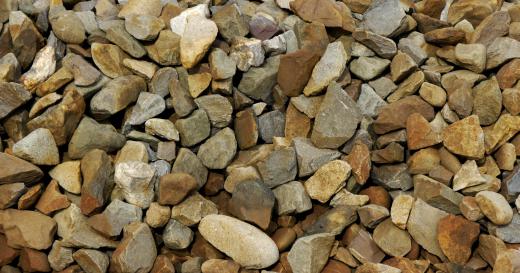 Gyratory crushers are also used as aggregate crushers. These types of crushers are similar to jaw crushers, but employ a cone shaped hopper with a smaller cone-shaped crushing head that gyrates around the inside of the hopper in an eccentric movement rather than rotating, crushing the source material until the particles are small enough to fall through the opening at the bottom. Cone crushers are very similar to gyratory crushers, but the crushing chamber is generally designed with less steeply sloping sides.
AS FEATURED ON:
AS FEATURED ON:







By: Yuri Kravchenko

Aggregate crushers are used in mining and quarrying operations.

By: Deyan Georgiev

Quarries often use aggregate crushers to break down rock or stone.

By: alpssimon

Aggregate crushers are used to produce crushed stone for landscaping.