What is Sustainable Construction?
Sustainable construction, also known as green construction, is concerned with the economic, social, and environmental impact of creating a usable structure. In other words, it requires designers and contractors to use building practices that will not cause long-term damage to the environment. Sustainable buildings are designed to be energy efficient, to be healthy for the people who live or work in them, and to reduce pollution and waste. Overall, this type of construction is based upon the triple bottom line (TBL) tenets of "people, planet, and profit."
How Buildings Affect the Environment
Buildings use a large amount of energy: according to the US Department of Energy, about 18% of all energy used in the US is consumed by commercial buildings. The European Commission estimates that 35% of all of Europe's greenhouse emissions come from buildings. They occupy a lot of space and take up a lot of resources, both during construction and once they are in use. The ultimate goal of sustainable construction is to minimize a building's impact on the environment by carefully considering how it is designed, how it is built, how it is used and maintained, and — eventually — how it will be demolished once its useful life has ended.
Social Sustainability
Social sustainability focuses on the people using the building. Their current and future needs influence the design, which strives to create a highly-flexible plan that allows the building to be easily re-purposed as needs change. This sustainable design can apply to a single-family home, as well as a multistory office building. A flexible design means the structure can be used longer, preventing the negative impact involved in tearing down an old building and rebuilding a new one.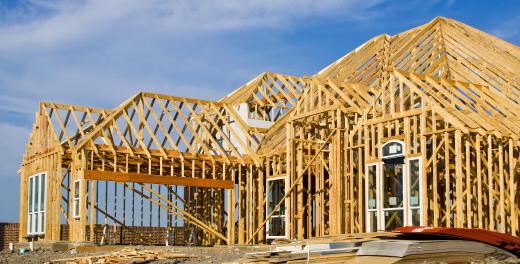 Sustainable buildings are also designed to make the environment within the building healthy for the people who work there. Workers in an office building, for example, may be more comfortable and more productive when sitting in an office with natural light. Indoor air quality is also a key element, and a building's heating, ventilation, and air-conditioning (HVAC) system should be both efficient and effective at eliminating pollen, mold spores, dust, and other pollutants that can make people sick. The materials used within the building — from the paint to the insulation — are typically chosen because they are less likely to release harmful chemicals or fibers that could hurt the people who spend time in the building.
Environmental Sustainability
Measures to address environmental sustainability can include increasing a building's energy efficiency, finding ways for the building to produce it's own energy or heat, installing water-reduction measures, and finding ways to reduce waste. Even the location and orientation of a building can make it more environmentally friendly; a commercial structure set far away from the areas where people are most likely to live will have more of an impact on the environment because employees and visitors will have to travel a greater distance to get there. A building that is designed to take advantage of already existing infrastructure, on the other hand, often fits into its environment more efficiently.
Green Materials
Choosing green materials is an important part of sustainable construction. Green lumber, such as that which is certified by the US Forest Stewardship Council (FSC), comes from sustainably managed forests. These are woodlands where trees are harvested selectively, with attention paid to supporting wildlife and biodiversity in the area, and new trees are planted to replace those removed, among other practices designed to keep the forest healthy. Materials from renewable resources are also used, as are those that can be efficiently recycled or reused.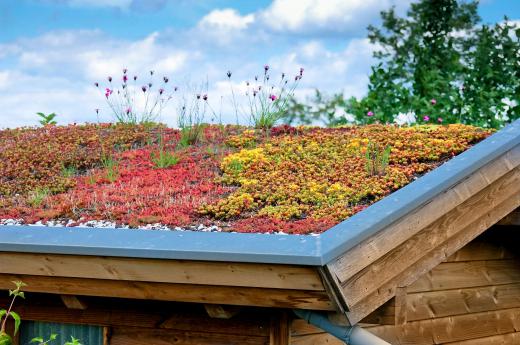 Other materials that are used are specifically designed to improve the efficiency of the building itself. For example, many plastics are used to insulate a building; while the plastic itself might not be considered a "green" material, it often requires less energy to make than other insulations. In addition, it does its job well, which means that it takes less energy to heat or cool the building over time.
Local Materials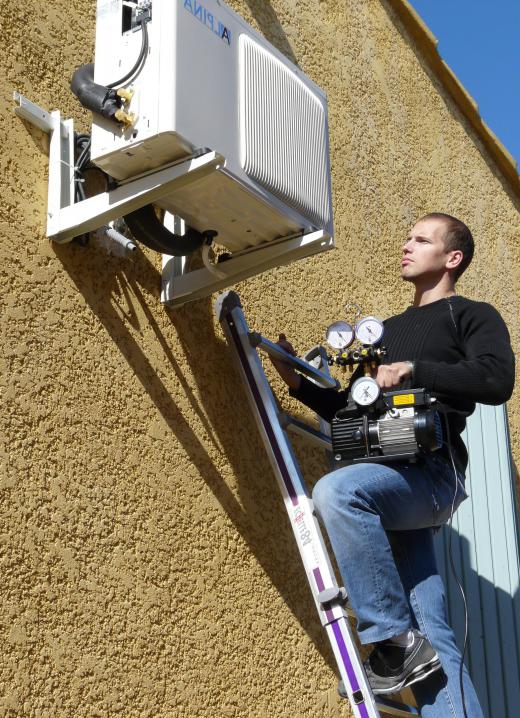 Using materials that are available locally is another way to promote environmental sustainability. This not only saves money but also reduces the energy needed and pollution produced. Materials brought from far away have to be loaded on a train or heavy truck, which require energy (usually fossil fuels) to travel from one location to another and produce carbon and other pollution in the process.
Economic Sustainability
Sustainable construction can also save money in both the short and long term. As mentioned, using local materials saves money immediately because there are lower transportation costs. Using materials that are relatively easy to install, maintain, replace, and repair also helps save money.
Energy Efficiency
One of the most effective ways for a building to be both economically and environmentally sustainable is for it to be energy efficient. This means that it should be designed to use as little power as is necessary, lowering the building's energy costs. Good insulation can help a structure maintain a constant temperature, and therefore use less power for heating and cooling, but sunlight can also be used to run a passive heating system, helping to keep the building warm and lowering the amount of power required. Double-glazed windows made with low-reflective glass can allow people inside to use natural light instead of electric fixtures, while still preventing most heat loss. The lighting and appliances within the building should also be energy efficient.
Solar panels and wind turbines can also be installed to allow power to be generated at the building site. While these methods might not always supply enough energy to run all of the appliances within a building — especially a large commercial structure — they can off-set some of the energy costs. In addition, when these alternative energy sources are working at their best, they may be able to produce more power than the building needs at the moment. This surplus can be stored or, with the right technology installed, sold back to the power company.
Water Efficiency
Just as buildings use a lot of power, they use a lot of water, too. Sustainable construction looks for ways to reduce water usage and to reuse or recycle whenever possible. Low-flow or dual-flush toilets can be installed, many of which use 1/3 to 1/5 less water than standard toilets. Some types of sink faucets can turn themselves off when not in use, and aerate the water so that less comes out even though the water pressure is high.
It is also possible to use rain water for landscaping and irrigation around the building. By using plants that are native to the area, as well as planting those which don't need very much water, the cost of keeping the landscape watered can be reduced.
Building Codes and Certifications
Sustainable construction is carried out through all stages of a building's life, from design to construction to maintenance and beyond. The initial work is often overseen by a specialized firm that is familiar with the complexities of this type of design. In the United States, firms that meet certain criteria may earn Leadership in Energy and Environmental Design (LEED) certification from the U.S. Green Building Council (USGBC). The Green Building Initiative®, another US sustainability organization, also offers certification programs for buildings, known as the Green Globes™.
Some nations actively promote sustainable construction with rebates and other incentives to companies that practice it. It is also promoted through trade organizations that provide certifications to sustainable buildings which meet their standards. These organizations inspect buildings to determine whether or not they were built sustainably, and sometimes their certifications qualify buildings and companies which use green construction for awards, tax breaks, and other incentives.
AS FEATURED ON:
AS FEATURED ON:







By: Gianluca Rasile

Wind turbines might be part of a sustainable construction project.

By: Fenton

Solar energy can be incorporated into a home utilizing sustainable construction.

By: leekris

Sustainable construction might incorporate reclaimed lumber.

By: afxhome

Low-flow toilets use less water than regular toilets.

By: Vladimir Gerasimov

Sustainable construction often begins with a structure's design.

By: Stefan Körber

Eco roofs, which insulate and also reduce the amount of impervious surface, are one example of a green building technique.

By: Cyril Comtat

The efficiency of a home's air-conditioning system is considered part of sustainable construction.

By: Elenathewise

Sustainable construction can save money in both the short and long-term.

By: Sam Spiro

Sustainable construction involves designers and contractors to use building practices that will not cause long-term damage to the environment.

By: yahyaikiz

Sustainable buildings are designed to be energy efficient and healthy for the people who reside inside of them.