What Are the Different Types of Green Construction Materials?
In the construction industry, construction materials that are energy efficient, sustainable, reusable, and that help and don't hurt the planet are very important. Green construction materials do one or more of the following: save water or energy, conserve natural resources, is recycled, reclaimed, reused, or salvaged from other sources. These construction materials are all designed and manufactured to be environmentally friendly and to use fewer natural resources. There are a large number of environmentally friendly building materials available on the market, and selecting which green building supplies are best may present quite a challenge.
Start with the foundation of a home, which is typically made of concrete that uses cement as a binding agent. The process of making cement involves extremely high temperatures of around 2,700 degrees F (1,482 degrees C), which sends large amounts of carbon dioxide into the earth's atmosphere. A more environmentally friendly cement-making process uses fly ash from industrial waste, decreasing the amount of cement needed and making the concrete stronger and less permeable. While this green concrete takes a bit longer to set and does not cost any less, the long-term effects on the environment may be worth the trade-off. Other green construction materials used in the foundation are modular, precast concrete panels, insulated concrete forms, and brick that is made of up to 40% fly ash.
Green construction materials also include the many different types and forms of insulation, like batting, material that is blown between walls, and slab foams. The greenest of these materials include cellulose, recycled glass, blue jeans, or newsprint. There are even fire-proof, non-toxic, and mold-resistant varieties of high R-value insulation that work well in any home or commercial application. About one-third of all heat gets out through the windows in a structure. The most energy-efficient windows combine coated glass, glazing techniques, and gas or air-filled spaces.
Other types of green construction materials include different types of roofing materials. For especially hot regions of the country, the U.S. Environmental Protection Agency (EPA) recommends something called a cool roof, which is composed of reflective tile or coated materials that prevent heat absorption, cutting the energy needed for air-conditioning. Due to it's reflective properties and 50-year life span, roofing that is made of galvanized steel or some similar alloy is also a good choice for green construction materials. Traditional roofing shingles provide less insulation and typically only last 15 to 20 years.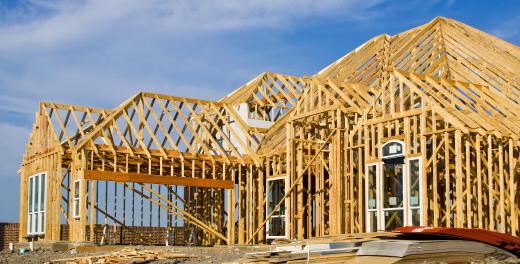 Granite, marble, or slate countertops may seem like a good choice for green construction, but the processes used to mine, cut, grind, polish, and transport these heavy slabs may use up precious natural resources. Wood is a renewable resource but may also use up other resources in processing. The green alternative to new wood is Forestry Stewardship Council (FSC) certified reclaimed or recycled wood products made from barns and old wood structures, like demolished factories and warehouses, or from forests that practice environmentally and economically responsible forestry methods. The processes used to create the new type of FSC certified wood provide a greener alternative to new growth wood.
AS FEATURED ON:
AS FEATURED ON:







By: Ernest Prim

Traditional roofing shingles provide less insulation than newer reflective tile or galvanized steel.

By: JRB

Recycled newspapers can be used to make papercrete, a green form of concrete.

By: leekris

Reclaimed lumber is one type of green construction material.