What is Electronics Contract Manufacturing?
Electronics contract manufacturing (ECM), also known as electronic manufacturing services (EMS), is an overall term for a variety of services a company can provide in the field of electronic components. Typical offerings can run from the creation of a product to preparation for final delivery and service. In most cases these services are performed for companies, known as original equipment manufacturers (OEMs), which will then sell the finished product under a brand name.
The mix of services an electronics contract manufacturing company provides can vary widely, depending on the size and capabilities of the organization. Some common services offered in the early stages of a product creation include design and testing. An ECM may also manufacture and distribute the product. Other companies provide follow-up services such as repairs and returns.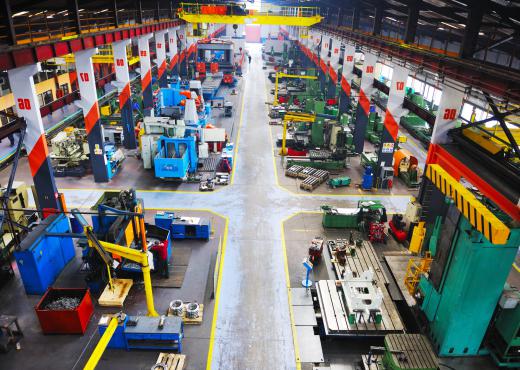 Some electronics contract manufacturing firms specialize in specific areas, whether from the design stage to servicing or for a smaller portion of the production cycle. Others will offer services for the entire product cycle of a specific kind of electronics. Some common specialties include circuit board assembly, surface mount technology (SMT), and ball grid array (BGA).
Before the birth of electronics contract manufacturing industry, companies would handle all of their electronics production needs in-house. The development of the industry in the 1970s allowed companies to streamline their own operations, including staffing, facilities, and human resources management, by outsourcing it to other companies. In the early days of the industry, ECMs offered only manufacturing services. When companies responded positively to the business model, the ECMs expanded their offerings, eventually leading to the prototype to post-sale management offerings that are currently popular. After a couple of decades of growth, some electronics companies were impressed enough with the abilities of EMS firms to sell their assembly plants to them, which helped the industry to grow exponentially.
It is possible for electronics contract manufacturing firms to produce product more efficiently, more quickly, and at a lower cost than a stand-alone company. EMS companies work on a larger scale than their clients and are thus able to lower the overall cost of materials by purchasing in larger quantities. They are also able to focus only on the various needs of manufacturing, which helps them to streamline operations. With fewer areas to fine tune, an EMS company can even build a system that produces a product superior to a company that attempts to manage everything in house and thus has fewer resources for manufacturing.
AS FEATURED ON:
AS FEATURED ON:







By: .shock

Electronics contract manufacturing firms might produce products more efficiently, more quickly, and at a lower cost than a stand-alone company.