What is Ductless Air Conditioning?
Ductless air conditioning is a system of cooling the home without the use of central air duct systems. While this can be achieved using window-mounted units, a more efficient technique involves the use of split system air conditioning units. These are a type of ductless air conditioning made up of two components: an indoor fan unit used to disperse cool air, and an outdoor refrigerant unit which cools air and disposes of condensation. A series of flexible lines connect the two units, allowing electricity, refrigerant, and condensate to run between the indoor and outdoor units.
Split system ductless air conditioning units are generally designed to cool a single room, though some are equipped with multiple fan units that connect to a single outdoor condenser. In this case, a fan can be placed in several rooms, though all are controlled by the same thermostat. The fan on a ductless air conditioning system can be mounted in the wall, within a drywall ceiling, or in a soffit. These fan units are generally small and unobtrusive, and many offer decorative grilles and covers to help them blend into a home's décor.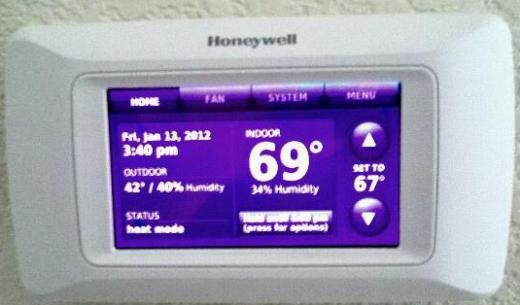 These split air conditioners are used in a variety of settings. First, they may be used in homes that are not equipped with a central duct system, or those that have heating ducts but no central air system. Not only is ductwork itself expensive, but one must often remove and replace walls and ceilings to accommodate new ducts, which can be both costly and messy. These units are especially beneficial in cooler climates, where air conditioning is only used for a few months out of the year. Ductless air conditioners are also useful for cooling a garage or home addition without extending the existing duct network.
There are several benefits to using a split air conditioning system instead of another type of unit. First, the cost of a split system is much lower than a ducted system as there is no need to install and maintain ductwork. Because ductless air conditioning systems run on a thermostat, they offer a high level of energy efficiency, and can maintain a steady temperature. Cold air is directed into the room where it is needed, and is not wasted on unoccupied rooms. Finally, these split systems are quieter and more efficient than window units, and do not have to be removed and reinstalled at the start and end of the summer season.
AS FEATURED ON:
AS FEATURED ON:







By: Dave Friedel

A thermostat connected to a ductless air conditioning system.