What is a Plumber Supply Store?
A plumber supply store sells everything that a plumber might need. These stores sell plumbing supplies as such sinks and toilets, as well as pipes, fittings tools and lesser-known items such as plumber's putty and plumber's tape. Plumber supply stores might cater to professional plumbers, to homeowners who want to do things for themselves or both.
Hiring a plumber can be an expensive proposition, and many homeowners choose to learn how to fix and upgrade their homes themselves. A well-maintained plumbing system in the home is an efficient way to save energy and money. Leaks and plumbing problems can destroy a home from inside the walls with rot and mildew.
A plumber's supply store is superior to a hardware store in that employees are more likely to have an in-depth understanding of the plumbing products available. They typically are equipped to answer questions that non-professionals will ask. A hardware store might carry many things that a plumber supply store carries, but the employees often lack the same technical plumbing expertise.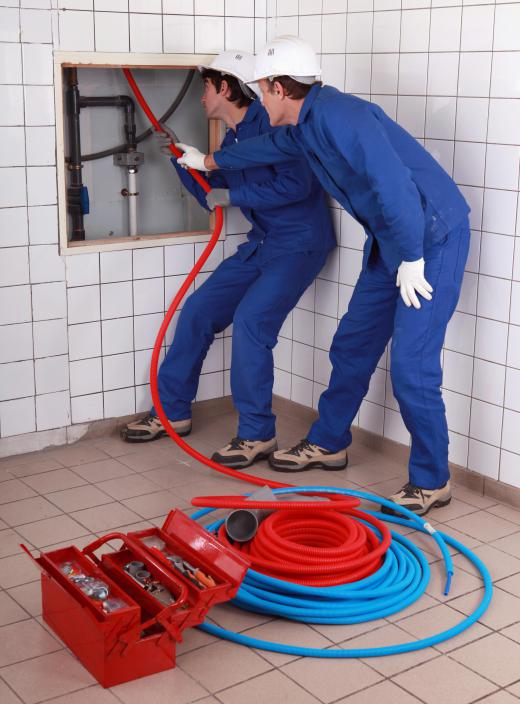 Plumber supply stores typically are ready to work with clients who are building or remodeling industrial and commercial buildings as well as residential buildings. The requirements and licensing for plumbing can vary from place to place. The professionals at plumber supply stores usually know or can find out what, for example, a commercial storefront in the state of California will need in the way of plumbing supplies to be up to code.
Plumbing store professionals also generally are equipped to provide customers with large amounts of plumbing supplies, such as pipes, sinks and toilets, as well as industrial sizes of these items. Hardware stores often are unable to supply customers with large quantities or industrial-size fittings. Some plumber supply stores cater specifically to professional plumbers and can provide supplies at wholesale prices. Wholesale plumber supply stores sometimes sell directly to consumers. Before making a trip to a plumber supply store, a homeowner should call ahead to see whether the store serves retail customers.
AS FEATURED ON:
AS FEATURED ON:







A brass pipe fitting.

By: auremar

Plumbers working.

By: Bert Folsom

A plumbing supply store will have plumber's tape.

By: Jiri Hera

Plumber supply stores stock items like toilets, and the tools needed to install, fix and repair them.

By: auremar

A plumber supply store sells all of the items necessary to complete most plumbing projects.