What is a Commercial Plumber?
A commercial plumber installs and maintains large-scale waste removal and water supply systems for businesses. His installation work can include indoor jobs such as fitting bathroom and kitchen fixtures, drinking fountains, and sprinkler systems, and outdoor jobs such as laying water and sewer lines. Maintenance work commonly performed by a commercial plumber includes addressing drain stoppages and repairing burst pipes or broken water or sewer lines.
Installing plumbing fixtures at a place of business usually requires a great deal more work than fitting out a home. A shopping mall, for instance, typically has several bathrooms and drinking fountains throughout, as well as kitchen facilities in food service areas. Outfitting this type of establishment requires multiple steps.
First, the commercial plumber must ensure that the establishment has working water supply and waste drainage lines. This may involve digging trenches and laying pipelines that connect to the local water main and sewage system. When installing these systems, care must be taken to ensure the water supply system is protected from contamination.
After these exterior systems are in place, the commercial plumber can then fit the building's interior. Depending on the business's needs, he may install toilets and bathroom sinks, drinking fountains, kitchen sinks, and fire sprinklers. In some cases, he may also fit water heaters or boilers, although these jobs are often performed by a separate heating and cooling specialist. He must take all appropriate safety measures, ensuring, for instance, that the kitchen drainage is working properly and that the drinking water lines are free of contamination. In addition, his work must be in keeping with all applicable health codes and regulations for commercial establishments.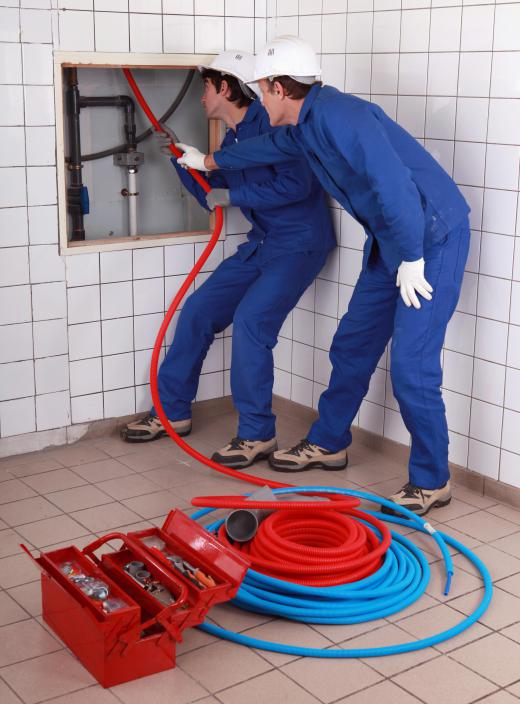 Maintenance work is another important aspect of the commercial plumber's job. In food service establishments, for example, grease-blocked drainage systems can be a common problem. The plumber may be called upon to clear greasy drains or to install special traps that prevent such blockages.
Sometimes the commercial plumber must attend to plumbing emergencies. In very cold weather, pipes and water mains occasionally freeze and burst. Overgrown tree roots can also cause mains and sewer lines to rupture. If left unattended, even for a short period, these breaks can cause serious damage to a building's electrical lines and structure or render the water supply undrinkable. Thus, the plumber must respond quickly, unearthing damaged lines if necessary, repairing or replacing the broken pipes, and ensuring that the water supply is properly pressurized and safe for consumption.
AS FEATURED ON:
AS FEATURED ON:







Pipe fittings.

By: auremar

Commercial plumbers may have recurring contracts with specific businesses.

By: Jiri Hera

Commercial plumbers fix and install bathroom fixtures, including toilets.

By: auremar

Commercial plumbers may be called to replace sections of PVC after a pipe has burst.