How do I Choose the Best Pallet Truck?
A pallet truck is a piece of industrial equipment that is operated by hand and is meant to transport pallets within a facility. Choosing the best one will require looking at the type of job you need it to do, and seeing which units fit. Options include a pneumatic lift unit, an electric pallet truck, or a manual pallet truck, which is often called a pallet jack.
If you will need constant use of the pallet truck, which is often the case in warehouses and shipping terminals, a non-electric pneumatic unit may be the best option. It requires no electricity and is operated by pumping the handle to elevate the pallet slightly off the ground. A release lever then lowers the pallet back down. For pallets that are especially heavy, often 1,500 pounds (680 kilograms) or more, a manual unit may not be practical.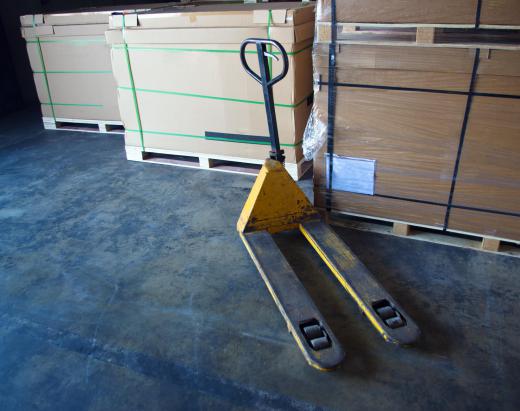 An electric pallet truck is often used in situations where the pallets tend to be very heavy, or when the unit will regularly have time to recharge. This unit raises and lowers the pallets at the push of the button, and is usually self propelled. They can move forward and backward at various rates of speed. Some models require that the user walk with the unit, and others have space for the operator to ride in a standing position on the unit.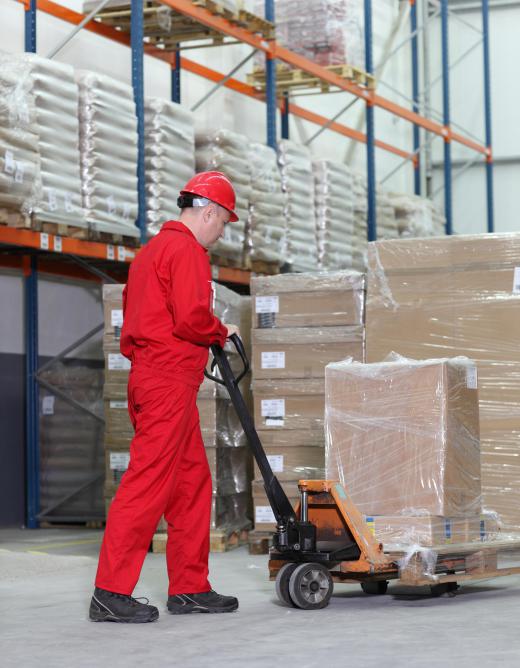 If you are intending to use the equipment around shelves that are up to five feet (1.5 meters) tall, you may want to consider a high lift pallet truck. These types of trucks are able to raise the pallet beyond the traditional ten inches (25.5 cm). You may find them in both electric and manual models.
No matter what type of powered or non-powered pallet truck you are considering, it will be rated for specific maximum weights. Using the equipment to lift a pallet heavier than its rating could result in damage to the unit and a voided warranty. It could also be dangerous. If you believe you could be moving freight that is consistently heavier than 2,000 pounds (907 kilograms), you may need a heavy duty truck or even a forklift.
Additionally, choosing the best pallet truck means looking at the quality of the units. If you are going to use the unit occasionally for light objects, a cheaper model may suffice. If the unit could consistently see heavier use, it may be wise to spend a little extra money for a product that is likely to last longer.
AS FEATURED ON:
AS FEATURED ON:







By: sharplaninac

Some pallet jacks are manual.

By: endostock

Manual pallet jacks operate hydraulically to allow lifting of heavy objects.

By: Lagui

Most pallet stackers are built of heavy-duty materials to withstand extreme weights and heavy duty use.