A gasoline pump is essential to keeping automobiles on the road. It is easy to take these pumps for granted because they efficiently fill tanks with a minimum of effort. Gas pumps, which most commonly are found at filling stations, are comprised of a very sensitive computer component and a sophisticated mechanical part that ensures that the fuel is pumped quickly and accurately. Another important part of the entire pump system is the small gauge that allows it to stop filling when the tank has reached capacity.
A gasoline pump begins its work far underground. That is because every gas station has an enormous tank buried beneath it, able to store thousands of gallons of fuel. Each individual gas pump is attached to this tank in order to fill vehicles' tanks.
The mechanical portion of a gasoline pump consists of a submersible pump or a suction pump. Suction gasoline pumps utilize vacuum pressure to suck up fuel and help transfer it to a waiting vehicle. A submersible gasoline pump, on the other hand, consists of a small motor that is dropped into the storage tank's fuel reservoir and pumps it upward. After the fuel has left the storage tank, it travels through a series of tubes until it reaches the fuel nozzle. This is the customer-operated portion of a pump, consisting of a large nozzle and a trigger mechanism that is inserted into the opening for a vehicle's tank.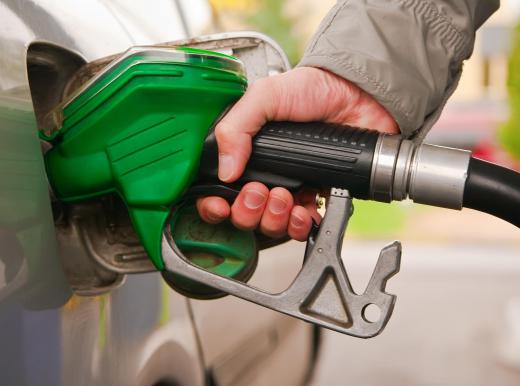 A gasoline pump's mechanical element is only half of the device, because without its computer system, purchasing gas would be difficult for customers. The computer's biggest job is measuring the amount of fuel pumped, in order to ensure that the station is giving customers the appropriate amount of fuel for their money. The pump computer's external portion consists of a credit card reader and a screen that allows users to monitor the amount of fuel pumped and how much it will cost. The computer system also is connected to a computer that the attendant operates.
One of the most sophisticated parts of any gasoline fuel pump is its ability to avoid overflowing a vehicle's tank by stopping when necessary. This is because the end of the nozzle has an open-ended tube that acts as a vacuum that sucks in air as the pump dispenses gasoline. When the tank fills, there is less air, and the tube is calibrated to turn off the pump when the air is almost completely gone from the tank.
AS FEATURED ON:
AS FEATURED ON:







By: fhmedien_de

Gas station.

By: Anna Lurye

A gasoline pump brings fuel up from the ground.

By: witthaya

The gasoline pump mechanism consists of a submersible pump or a suction pump.