What is a Catastrophic Failure?
The term catastrophic failure refers to a problem or issue that cannot be fixed. In the construction industry, a catastrophic failure usually destroys a building or structure, or makes it unsafe for use unless the entire structure is rebuilt. This term is usually used to describe a major event, such as a house collapsing or a deck falling down, but can be used to describe anything that simply does not work and must be replaced.
A catastrophic failure in construction most often occurs within the foundation. The structural soundness of the building literally rests on the foundation. Once the rest of the structure is built, foundation repairs are often impossible. If the foundation fails, the entire project will fail.
Improperly mixed concrete, improperly spaced supports and incorrectly prepared land are all reasons for a foundational catastrophic failure. Each of these things will cause the building's foundation to be unsound. Improperly mixed concrete or improperly laid foundation blocks can shift, crumble or crack. Improperly placed supports can cause uneven weight distribution or can prevent the foundation from being able to withstand the pressure of the above structure. Incorrectly prepared land can result in a foundation that sinks or shifts over time.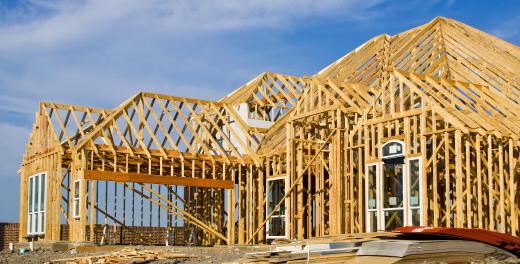 A catastrophic failure can occur above the foundation level as well. For example, joists or studs that are spaced too far apart can result in a lack of support for the upper floors and roof. An incorrectly wired outlet can cause a fire that destroys the building. Incorrectly laid pipes can crack, flooding the building. Use of improper materials in any stage of construction can potentially cause the project to fail.
Using incorrect materials for outdoor structures can easily result in a catastrophic failure. Decks, porches, piers, boat docks and other such structures must be constructed using materials that have been treated to withstand weather and water. While non-treated materials are often less expensive, they may also become unsafe.
Sometimes, evidence of an impending failure is noticeable. For example, a foundation crack that grows continually larger may indicate that the concrete is failing. If left unrepaired, the building will ultimately collapse.
At other times, failures are completely unexpected. A home may have been constructed properly by the builder, but contain a faulty wire that works fine for several weeks before suddenly catching fire, for instance. Likewise, a deck's support beam may appear intact when, in fact, termite activity has been hollowing the inside of the wood for some time.
AS FEATURED ON:
AS FEATURED ON:







By: zimmytws

An improperly laid foundation can cause a catastrophic failure.

By: leekris

In construction, a catastrophic failure usually requires a complete rebuild.