A fire cut is a cut made at the top of a joist used with a masonry wall such as a brick or stone wall. This cut is designed to act as a safety feature which will reduce the risk that the wall will collapse in the event that there is a fire which burns through the joist. If the wall does collapse, the nature of the fire cut will encourage it to collapse inwards, which will protect people who may be outside, such as firefighters and rescue workers. Fire cuts are one among many safety features built into the design of structures to reduce the risk of losing lives in a fire.
Joists are horizontal supportive beams which are used to distribute the weight of a structure to the walls so that it can be distributed down to the foundations. They can hold up flooring or rafters, depending on where in a building they are located, and they are usually large and arrayed somewhat redundantly so that if a single joist fails, the network of supportive joists can still function. As joists fail in a fire, they add stress to the extant joists, and joists which are burned through can add considerable horizontal pressure to the walls they are attached to.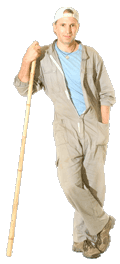 The fire cut consists of a diagonal notch. The notch is not deep enough to compromise the integrity of the joist, but if the joint burns through, it will allow the joist to sag downwards, rather than putting high levels of horizontal pressure on the wall. While it might seem like a bad idea to have a joist tilting out of the wall, the fire cut is actually beneficial because it relieves horizontal pressure, which causes masonry walls to collapse during a fire.
The structure of the fire cut is also designed to encourage walls to collapse inwards, if they must collapse. Collapses can happen as the building becomes destabilized by an intense, widespread, or hot fire, and they pose a risk to people who are working outside. If walls collapse outwards, they can eject debris which may hurt emergency responders, and materials which may be on fire may also be distributed around the site of the collapse, putting neighboring structures at risk.
Fire cuts have to be carefully designed and placed to ensure that they are the right size. A skilled mason, contractor, or engineer can confirm that a cut is in the right depth and position.
AS FEATURED ON:
AS FEATURED ON:







Worker