What are the Different Types of Sanitation Companies?
People around the world have a tendency to produce a lot of garbage and waste through normal lifestyle, health and business activities. This creates a big need for a wide range of sanitation companies to clean up and handle all that waste in a manner that is safe for communities and for the environment. The most common types of sanitation companies are solid waste treatment centers, public trash and refuse sanitation services, agricultural and industrial waste removal firms, hazardous waste and marine sanitation providers.
The greatest amount of waste is produced by businesses in large industries, which account for billions of tons of solid waste each year, keeping industrial sanitation companies busy year round. In America alone, more than 4.543 million tons of solid waste is produced, much of it by large industries in the agricultural, mining, and industrial building sector. Public trash and refuse sanitation companies also serve private citizens who also produce a large amount of garbage. Studies conducted by the Environmental Protection Agency reveal that the average citizen produces 1,600 pounds (726 kg) of trash annually, with countries in North and South America, Asia and Europe producing most of the solid waste.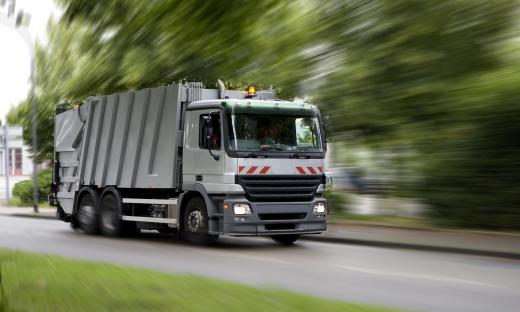 There are also specialized sanitation companies that exist to handle the general waste produced by major centers in the scientific, energy, health care, and medical fields, due to the nature of the waste itself. While much of the refuse is general office supplies and paper, there is waste produced during medical and research procedures that must be handled safely to maintain industrial hygiene and reduce the chance of contamination of the general population. This waste is referred to as hazardous waste and is generally handled by hazardous waste and industrial waste management companies.
Along the major waterways of the world, there is a large need for sanitation companies to handle the billions of gallons of liquid and gaseous waste that is produced by industrial plants, the marine industry, and energy centers. Many times, this waste goes unnoticed by the general public because sanitation companies that deal with this type of waste have developed methods to reduce the chance of damage to the environment as it pertains to the natural habitats of fish, birds, mammals, and other wildlife that live in and around the water in marshes, lakes, rivers and oceans. The boating industry is careful to maintain certain standards to prevent contamination of the earth's most precious resources by implementing marine sanitation services along shorelines.
AS FEATURED ON:
AS FEATURED ON:







By: Goss Vitalij

A sanitation company, which usually offers trash collection, can be either public or private.

By: Moultipix

Recycling is an important sanitation service.

By: Keith Frith

Some companies specialize in collecting and destroying sharp waste such as needles and disposable scalpels.

By: smuay

Studies conducted by the Environmental Protection Agency reveal that the average citizen produces 1,600 pounds of trash annually.

By: Manuela Manay

Some sanitation companies specialize in collecting yard and other organic waste.