What are the Different Types of Residential Drainage?
There are many types of residential drainage available to consumers and most of them come in the form of landscaping. While the pipes that carry excess water and sewage from the home are definitely important, the largest factor is the soil's ability to absorb these nutrients and to eliminate any standing water around the structure. This task is accomplished through culverts, irrigation systems, and the foundation on which the residence sits. Gutters and roof drains also play an important part to ensure that rainfall is distributed to the parts of the property with the greatest runoff.
When a builder first inspects a location and thinks about residential drainage, he searches the property to determine the natural slope and pitches of the land. The home is normally built on the highest point to ensure that water always flows away from the structure, and when the land is particularly flat, a building pad may be created out of rock and sand. The soil's absorption rate will also be considered, and in areas where standing water presents a problem, there may be irrigation ditches created to help expedite the evaporation process. Other areas have excellent absorption rates, and this residential drainage step is ignored completely.
A septic tank is another form of residential drainage that relies heavily on the soil. Pipes from the residence carry sewage from the restrooms into a large holding tank, and from there, water naturally seeps into the soil in order to fertilize the land. Areas with poor absorption rates may have to install what is called a drain field that allows the waste to flow great distances from the tank. This formula is not left to guesswork though, and engineers often obtain a soil sample to determine the length and thickness of the underground drainage. Some locations may also offer a citywide sewage system for residential drainage.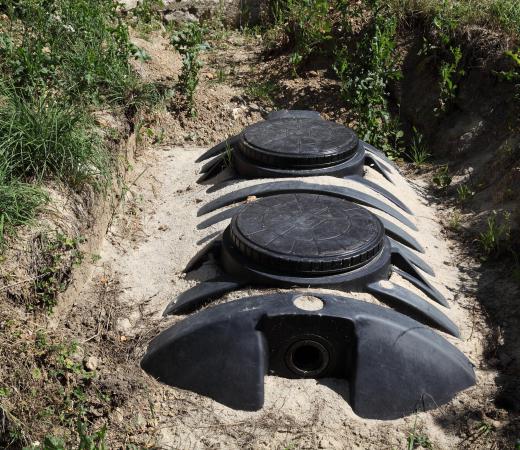 In particularly troublesome locations, a network of underground piping may be installed to allow water to flow away from the property. From the moment that rain lands on a roofline, it is steered away from the property through gutter systems. It would eventually end up within a culvert that allows rainfall to flow freely across many properties and it usually ends up inside a local river or lake. This type of residential drainage benefits the entire city by preventing flood areas and recycling water at the same time. Eventually, that moisture ends up in a purification plant so that it can be converted back into drinking water.
AS FEATURED ON:
AS FEATURED ON:







By: Amy Walters

A home's downspout diverts water away from the gutter system.

By: gozzoli

A septic tank is a type of residential drainage.

By: Aaron Kohr

In particularly troublesome locations, a network of underground piping may be installed to allow water to flow away from the property.

By: lnzyx

Drainage pipes can help prevent flooding and soil erosion by guiding water away from an area.

By: Robert Harrak

In areas where standing water is a problem, irrigation ditches may be created to help with the evaporation process.

By: ekarin

Adding stones to a garden can help with drainage.