What are the Different Types of Drainage Companies?
Drainage companies are businesses that provide many different types of services related to water management. This can include the installation, maintenance, or supply of materials and systems. Some drainage companies may also offer consulting services, which can propose solutions for current, or potential future, problems.
The term drainage typically refers to the artificial removal of surface or underground water from an area. This can help to prevent flooding or water build-up, which can damage the foundation of a house. A drainage system basically consists of a series of pipes or drains that redistribute water. The use of these types of systems by humans has been dated to as far back as 5000 years ago, according to archeological evidence related to the Bronze Age Indus civilization of India.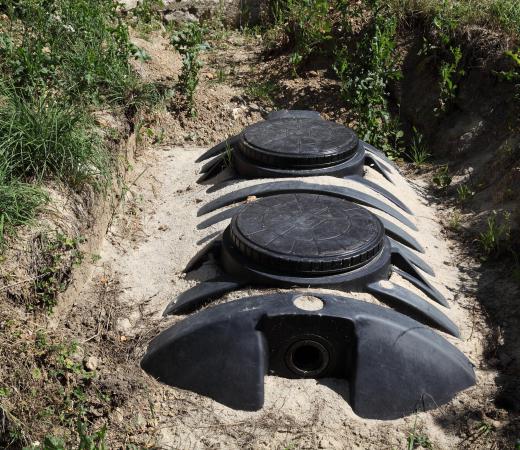 Many drainage companies offer help and repair work for drainage problems. This can include work like clearing out blocked drains, excavation, and drain descaling. Some companies may also offer services such as drain tracing, high pressure jetting, or unclogging a blocked toilet.
Some drainage companies specialize in repairing drains that have been damaged by factors such as weather or corrosion. Many of these businesses provide 24-hour emergency service. This can be an ideal option in cases where a quick repair or immediate solution is needed.
Other firms may be drainage system installation specialists. Such work can be very complicated, depending on the type of system that needs to be installed. For example, if a large system needs to be put into place, excavation equipment will often be required to dig the necessary trenches and tunnels for pipes. Some installation companies may also be experts in relining pipes, meaning that the piping system has to be re-routed in order to accommodate things like construction or building projects.
Maintenance services can also be offered by drainage companies. These professionals can typically clean out pipes in order to prevent blockage and any future problems this may cause. A lot of different maintenance and cleaning tools are used by these businesses, such as high-pressure sprays, which eliminate the build-up of grime and dirt in pipes.
There are also many suppliers of drainage equipment. These businesses can include anything from traditional retail stores to online shops. Some of these companies provide equipment to homeowners or to drainage professionals. Common types of drainage supplies include pipes, septic tanks, and tools that are often used in this type of work, such as monkey wrenches and manhole cover lifters.
AS FEATURED ON:
AS FEATURED ON:







By: gozzoli

A septic tank is a component of a drainage system.

By: Tom Wang

Some drainage maintenance workers may need access to manholes.

By: Aaron Kohr

Many drainage companies offer help and repair work for drainage problems, such as clearing out blocked drains.