What Are the Different Types of Lathe Accessories?
In addition to cutting tools, there are many types of lathe accessories, including various centers, extensions, and tool rests. Generally, the type of lathe accessory selected depends on the manufacturer's products and processes. For example, a company that needs to lathe a bowl while protecting its finished surface may use a bowl chucker pad. Other important lathe accessories are faceplates, drives, and collets.
A lathe is a wood- or metal-working machine that rotates a workpiece while a cutting tool cuts away part of the workpiece. Occasionally, companies use lathes for plastic, glass, or other materials. The tools' basic shapes are similar, but other tool characteristics often differ depending on the type of lathe. Most industrial lathes are computer-numeric-controlled (CNC) machines, and companies generally buy the tools through industrial suppliers. In industrial lathes, a tool post holds the tool, while a hobbyist usually uses a tool rest and holds the tool while working.
Generally, a faceplate or faceplate dogs attach to the lathe spindle and help hold the workpiece in place. Choosing the proper faceplate or faceplate dogs often improves turning precision. Industries usually use custom-made faceplates to increase productivity. For prototype work or small orders, most companies rely on temporary faceplates or adjustable faceplate dogs.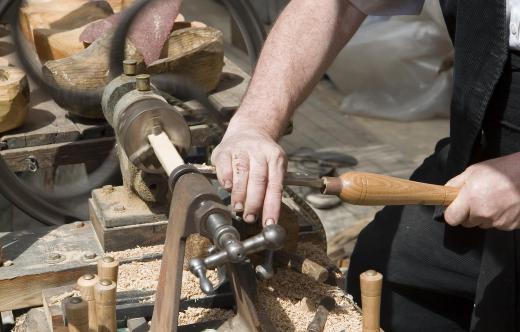 Other lathe accessories that help hold the work stock in place are the mandrel and the chuck. A mandrel is a shaft to which the worker secures the workpiece during turning. Machinists usually choose a mandrel when working hollow workpieces, such as bushings or vase-shaped workpieces.
Many people believe that chucks are the most beneficial lathe accessories. There are many different types of chucks, including two-, four-, or six-jawed chucks. An example of a specialty chuck is the independent jaw chuck, which has four jaws that a person may adjust independently of the others. This allows the machinist to secure irregularly shaped workpieces. Other chucks are the drawtube-actuated chuck, the combination jaw chuck, and the scroll-type chuck.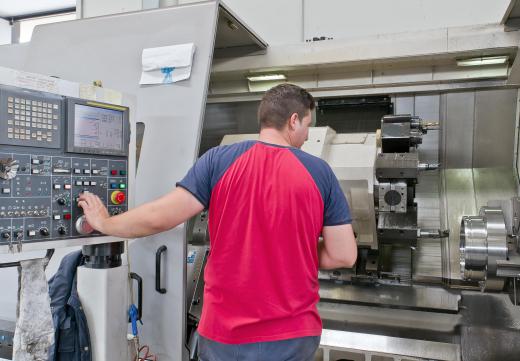 Lathe centers help machinists ensure precision when a machinist must repeatedly place the workpiece on the lathe. For example, a person may lathe a workpiece, remove it for heat treatment, and return it to the lathe for further work. Centers are tapered to a point, allowing the machine operator to accurately place the center on a precision spot on the workpiece. Some centers, such as drive centers, have prongs that hold the workpiece.
There are several special centers available, such as revolving, drive, and live centers. The dead center needs a lubricant and does not turn with the workpiece. A live center has ball bearings and turns with the workpiece, which allows the worker to use higher speeds without using a lubricant.
Other lathe accessories include extensions that allow a person to lathe short workpieces, specialty collets, and other items. Sometimes companies need highly specialized accessories, such as light pull drives. Machinists use these drives to make lamp switch pulls. Many companies that make screws and similar items use screw centers. Spring-loaded center points and quick-change collets are a few accessories that decrease production times.
AS FEATURED ON:
AS FEATURED ON:







By: Kadmy

Accessories for industrial lathes that are computer numeric controlled are typically bought through industrial suppliers.

By: Lagui

A wood turning chisel is used to cut wood that's being rapidly turned on a lathe.

By: Giovanni Burlini

The type of lathe bit needed may depend on the materials being cut by the CNC machine.