What are the Different Types of Drainage Equipment?
Drainage equipment usually can be broken down into two categories. First, there are the components of a drainage system, which can refer to things like pipes or septic tanks. Secondly, there is a large variety of different products that help in the installation, repair, or maintenance of a drainage system. Some types of drainage equipment primarily are intended for use by drainage specialists, while other types might be available to the homeowner who wants to find a solution to a drainage problem they are having.
The term drainage generally refers to the artificial removal of water from an area. Drainage equipment may help with moisture control, eliminating excess storm water, or alleviating water damage. Unwanted buildup of water sometimes can cause problems like flooding or clogged pipes. This can lead to consequences such as damaging the foundation of a residential home or diminishing the yield of crops on a farm. Drainage equipment might help in realizing the goal of a drainage solution.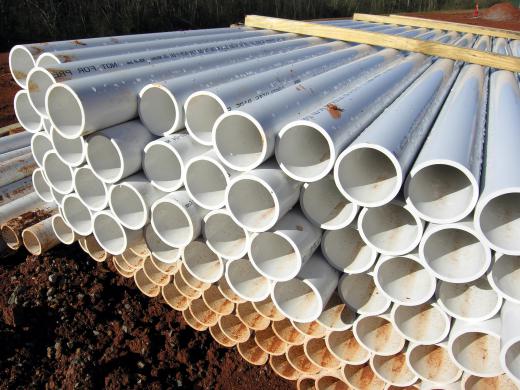 A common type of drainage equipment is pipes, which generally are used to help redistribute water from areas that are suffering from drainage problems such as flooding. Some of the common drainage pipes found in homes and gardens are made of PVC plastic and are perforated. These pipes usually are placed in trenches that have been dug in the land with the intent of relocating water to an area that will not cause any property damage. Copper drainage pipes often are found in homes and usually are considered to be a good piece of drainage equipment because they do not corrode as easily as other materials. Perforated clayware pipes are another material that often is used for draining gardens of excess water.
Tools and devices used for maintaining and cleaning drains also are examples of drainage equipment. Various types of pumping systems can help clean out drainage pipes that might be clogged. Some drainage equipment is used specifically for cleaning pipes that carry waste. For example, a mini hand snake is a type of small equipment that can be used to unblock drainage pipes located in kitchens or bathrooms.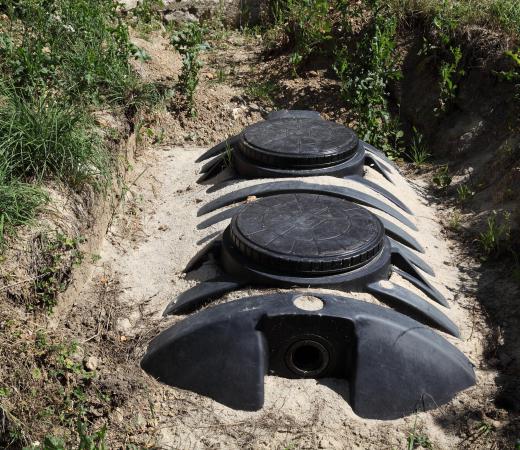 Some of the new technology in draining equipment includes special drainage cameras that can be inserted into a pipe. This allows one to examine the flow of water and detect any potential pipe damage. Such cameras can be invaluable sources for fitting into any manner of pipes, such as toilet pipes or backyard drainage pipes.
AS FEATURED ON:
AS FEATURED ON:







By: thejimcox

PVC pipes are commonly used to make perforated pipes.

By: Amy Walters

A home's downspout diverts water away from the gutter system.

By: gozzoli

A septic tank is a component of a drainage system.

By: Aaron Kohr

A drainage grate is a grate that covers the entrance to a ground level sewer line, which allows water to enter the sewer.