What Are the Advantages of Batch Production?
There are many advantages to batch production, including reduced initial costs and operating costs, a wide range of associated products, and a flexible production process and scale. Additional advantages include many of those typically associated with mass industrial and commercial production. One of the major advantages is the reduction of time required to produce a single product, because multiple products are pushed through the same process at the same time.
Initial costs are often reduced because related machinery can be less expensive than other kinds of production machines. Batch production is common in many settings, because the time reduction often translates into a smaller financial outlay. Initial and operating costs are further reduced when such production systems are designed with interchangeable elements. Rather than needing to replace an entire production line, a single process among many can be altered based on production needs.
Operation costs all the way up to the final stages also can be reduced using this type of production. Many systems are meant to be run intermittently, so the cost of downtime is often reduced. For instance, a bakery might use this type of production to create all of the food to be sold in a day and then shut down production. Unlike with continuous production, batch production often can be designed to account for downtime without significant financial impact. This characteristic also applies to changes in production methods or product design.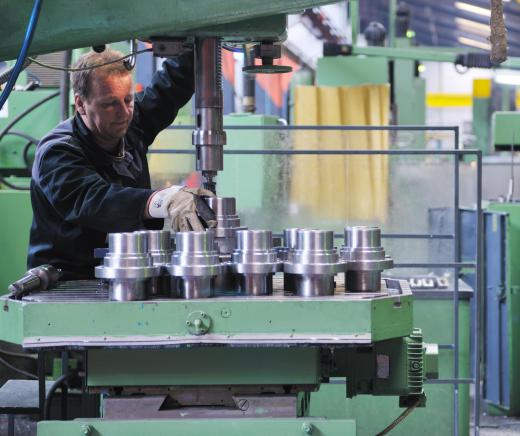 Batch production lines are often more easily altered than other methods. This is especially advantageous when new products, changes to old products or upgrades are required. For instance, seasonal items are often made using this production style, because demand for those items is often inconsistent. Production of unsuccessful items also can stop without the need to replace all of the associated machinery and processes.
This flexibility is considered a major advantage in many situations. Products such as ink, adhesives and shoes can all be made using batch production and most of these products might require alteration or volume reductions in reaction to consumer demand. There is such a wide range of goods and production scales possible that one system is often sufficient for a range of products and specific designs.
Aside from the unique benefits of batch production, many of the benefits of industrial and commercial production also apply. For instance, producing large quantities of a product often is more cost effective. Reductions in time and cost per product are amplified by the flexibility of these systems. Labor requirements also are potentially reduced because a smaller number of workers can produce batches of products.
AS FEATURED ON:
AS FEATURED ON:







By: irishka

One benefit of batch production is the reduction of operating costs.

By: .shock

Batch production can greatly cut down on the time it takes to produce a single product.

By: lnzyx

Batch production offers reduced initial and operating costs, and a flexible production process.

By: gemenacom

Unlike with continuous production, batch production often can be designed to account for downtime without significant financial impact.