What are Pumping Stations?
Pumping stations are buildings or places that house pumps or other equipment designed to move water and other fluids from one location to another. Pump stations are sometimes called lift stations. The particular type of equipment residing in a specific pumping station will depend on its exact function, and on the type of fluid that requires pumping. Different pumps may be needed, for example, at a sewage pumping station that deals with sludge and slurry, when compared with a water pumping station.
Pumping stations typically have a dedicated function. Many pumping stations form important structural parts of the public water supply system, typically serving to pump water out of a reservoir, and into a system of pipes. Some pumping stations transport domestic sludge, liquid industrial waste, or agricultural slurry. Other uses of pumping stations include managing the water supply of canals, pumping water uphill in certain types of hydroelectric systems, providing irrigation to farming land, and draining water from low-lying land.
Pumps that are utilized in these stations include two main types. These are rotodynamic pumps and positive displacement pumps, and they are classified based on the mechanism that they use to move fluids. Rotodynamic pumps work by adding pressure to a column of fluid in order to increase the rate at which the fluid moves through a pipe.
A rotodynamic pump uses a rotor to apply pressure to a fluid. These pumps are often called centrifugal pumps, and they may be used in a sewage pump station, as they allow the pumping of thick slurries. Centrifugal pumps are also often used in water pumping stations that provide water to agricultural irrigation systems.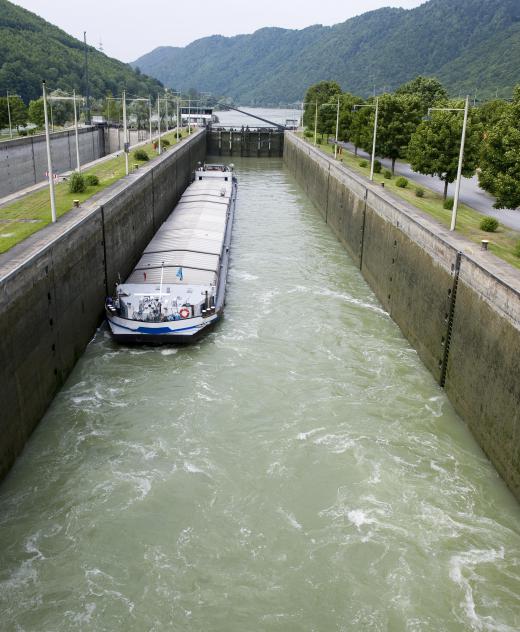 Positive displacement pumps work by forcibly moving an amount of fluid from an intake pipe to an outlet pipe. These pumps usually produce a constant flow. As such, these pumps often form part of the equipment for a standard water pump station providing the flow for a public water supply.
Modern pumping stations are often monitored and maintained using a computer called a pump station manager. These computers offer the advantage of allowing a pump station to operate continuously, without necessarily being staffed at all times of the day or night. Pump station manager computers usually have a user-friendly interface that allows non-technical personnel to operate the station. These computers typically monitor many important variables that affect the successful operation of pumping stations, such as liquid pressure and flow rates.
AS FEATURED ON:
AS FEATURED ON:







By: hansenn

Pumps are sometimes necessary to move thick sewage through lines.

By: Robert Hoetink

The water supply of canals may be managed by pumping stations.