Water waste is any water that is disposed of after being used for a primary purpose. This includes home water disposal, such as when washing clothes or dishes, as well as cooking and cleaning. It also includes any water that is used for industrial purposes, such as when running machines or needed for other cleaning purposes. Once its primary use is over, it must be disposed of properly.
The main reason care should be taken when dealing with water waste is to protect other water sources from becoming contaminated. Thus, most water waste is taken by sewer line to a water treatment facility. There, the solids and most biological organisms are removed from the water and the clean water is released as effluent, usually into another source of water, such as a river or lake. If the equipment at the water treatment facility is running properly, the water will pose no danger to the environment upon being released.
Industrial water waste is often treated slightly differently than standard household water waste. Water that has only been used in the manufacturing process may be able to be released directly into the environment if a number of conditions are meant. This is often regulated heavily in many jurisdictions and those industrial facilities can be fined heavily if found to be abusing the discharge terms. In some cases, even criminal action could be taken against those responsible. The water will likely contain some solids, especially metals. Those metals cannot be of types or in concentrations that are considered dangerous.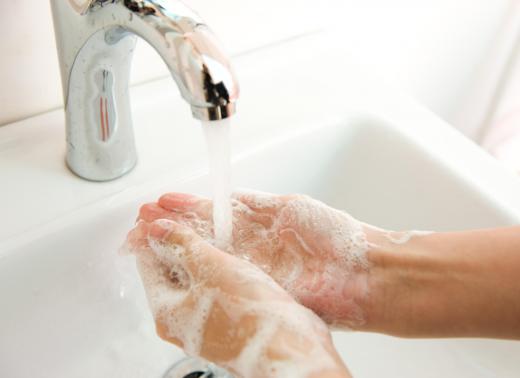 Further, industrial water waste must not be mixed with any other type of water being flushed from the facility. For example, sewer lines that serve bathrooms and kitchens at such facilities cannot run into lines serving industrial uses. This protects the effluent from cross contamination, thus making sure no harmful bacteria is released into an otherwise clean or safe water supply.
Water waste can also be considered runoff from streets and other areas after a rainfall. This type of water is sometimes not considered that dangerous, and is often funneled directly into a natural body of water. Some communities and states have begun to change the rules regarding this and feel oil and other contaminants on the road's surface can have a negative impact on the environment. To protect the environment, some have mandated special ponds, called drainage ponds, to collect the water and keep it separate from other water sources. This water waste is not meant to be treated, but may become cleaner over time due to natural processes.
AS FEATURED ON:
AS FEATURED ON:







By: keller

Wastewater must be treated before it can be reintroduced into lakes and other bodies of water.

By: xy

Waste water must be treated and purified before it can be used by people.

By: antiksu

Wastewater treatment facilities remove contaminants from liquid waste, like sewage, before it is released back into the environment.

By: Silvano Rebai

Runoff from streets is sometimes directed into natural bodies of water.