What Should I Expect from Ventilation Installation?
There are many ways to ventilate a home or building. Ventilation installation is the process of creating holes for vents in the ceilings or outward-facing walls of a building. This is a standard procedure for bathrooms, attic fans, and heating and air conditioning installation. When ventilation systems are installed, a homeowner should expect minor construction and electrical installation to be completed in the area being ventilated.
Central air conditioning is a modern system that automatically circulates air through a home or building. This system includes vast amounts of sheet metal ductwork, with large fans and compressor pumps. This type of ventilation installation is a complex construction job that requires expertise in heating, ventilation and air conditioning (HVAC). When a new system is installed, ductwork must be installed in the walls and ceilings of a home.
Central air conditioning also includes recovery vents that help the system circulate air in the building. These vents hold the air filters that are used to clean the air that is pulled back into the air conditioning unit. It is important to ensure these vents are kept clean and free from dirt, otherwise this dust will blow throughout the home.
A bathroom exhaust fan is common type of ventilation system used to draw odors and humidity out from a bathroom. Bathroom ventilation installation requires two holes to be cut in the home. The first is cut in the ceiling fan area in the bathroom, with another on the outer wall of the home. When the bathroom fan is turned on, it forces the air out of the bathroom area through the outer wall hole.
Most household attics have large air vents to reduce the heat and moisture produced in the upper area of a building. This type of ventilation installation is a simple carpentry installation of a metal or mesh vents. The vent holes are cut on both sides of the building to match the size of the mesh vent. After the vent is installed with metal screws, caulking is placed around the vent area to keep water leaks out of the building.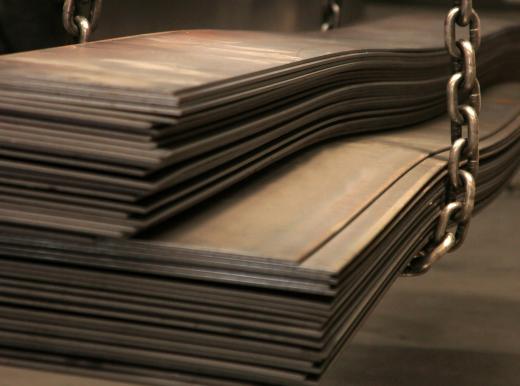 Livestock barns use large fan ventilation systems on the outward-facing walls of the building. These fans help circulate the air in the barns, making them more comfortable for the animals. This type of ventilation installation job requires electricity and light carpentry work. The fan is typically connected to an electrical switch or an automatic thermostat.
AS FEATURED ON:
AS FEATURED ON:







By: Lisa F. Young

Ventilation installation requires minor construction and electrical work.

By: stokkete

Some ventilation installations may require light carpentry work.

By: Kybele

Sheet metal is used extensively for ductwork in ventilation installations.