Consumers today are far more knowledgeable regarding household products containing potentially toxic levels of variable organic compounds, commonly known as VOCs. Paints, stains, and varnishes have long contributed considerably to the the prolific release of VOCs, sometimes known as off-gassing. This explains the growing popularity of low-VOC and VOC-free products for coatings and finishes.
Paints and varnishes, as well as many other decorative and protective finishes and coatings, contain a number of carbon-based components, as well as heavy metals, formaldehydes, fungicides, mildewcides, and other unsavory materials. While these often extremely toxic carbon-based compounds are found in more concentrated form in alkyd, or oil-based paints, and stains; water-based, or latex coatings also contain many of these same compounds. In regular paints, these compounds contribute to the product's drying, hiding, and fading properties, gloss retention, and color effectiveness and acceptance.
The problem in producing VOC free paints is in maintaining the basic properties of an inexpensive and effective coating, while significantly lowering VOC levels. This is often accomplished using synthetic compounds, essentially purifying the essential ingredients that make paint an effective, low-cost, and easily applied decorative and protective coating. Additionally, paint manufacturers are beginning to rely on natural compounds to replace many of the carbon-based components formerly used. Unfortunately, and despite the best efforts of modern chemistry, this trend toward VOC free products usually results in less effective products, often at significantly higher cost.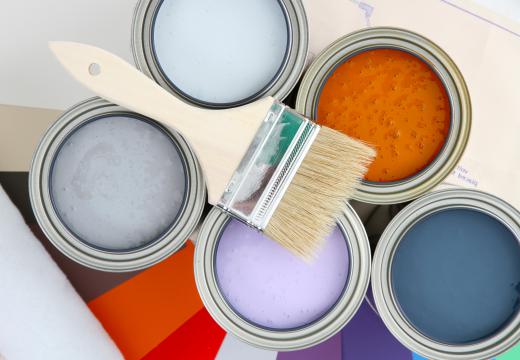 Additionally, paint manufacturers are now required by state and federal law to produce lower-VOC coatings. These regulations are based on Environmental Protection Agency (EPA) guidelines mandating certain VOC levels in not only paints, but a number of other household cleaning products, pesticides, adhesives, and printer ink, among other things. The commonly accepted VOC limit for latex paints is about 350 grams per liter (g/L) for regular oil-based paint, while a maximum of 250 g/L is generally considered acceptable for latex paints.
paints touted as VOC free are most often not really free of all toxins, but do generally contain less than 5 g/L of VOCs. Also, keep in mind that advertised low-VOC and VOC free coatings are measured before pigments, colorants, and other additives are put into the product. Virtually all pigments and colorants will increase VOC levels by some 10 g/L or more. Other additives, such as extra ultra-violet (UV) inhibitors, wetting or drying agents commonly increase VOC levels even further.
Work is currently underway to develop pigments, colorants and other additives that are also VOC free. However, this will inevitably result in lowering the effectiveness of coatings even more, while further increasing the expense. This appears to be the price for emphasizing green building practices and a less toxic home and work environment.
AS FEATURED ON:
AS FEATURED ON:







By: mrallen

The problem in making VOC free paints is in keeping the basic properties of an inexpensive and effective coating, while lowering VOC levels.

By: Rob

Federal law promotes the lowering of VOCs, or variable organic compounds, in paints.