PVC plumbing is plumbing done with polyvinyl chloride (PVC) pipe. Around half of the world's PVC production goes to making pipes for plumbing applications, and PVC plumbing is extremely common around the world for new structures and replacements of existing plumbing systems. The main alternative to PVC pipes is copper plumbing, although cast iron and certain other plastics are also used in plumbing applications, along with chlorinated polyvinyl chloride (CPVC), a close relative of PVC.
There are a number of advantages to PVC plumbing. It's cheap, which can be appealing to people paying for repairs or trying to cut construction costs. It is also extremely easy to install; even people with limited plumbing experience can install and repair basic PVC plumbing, and plumbers working on more complex tasks can work much more quickly with PVC than with other types of plumbing material. PVC also doesn't react with concrete and other building materials, unlike metals such as copper.
Unlike copper, PVC doesn't pose a fire risk during installation as joins are made with a network of connectors which can be screwed, taped, and glued together. Copper, on the other hand, must be soldered during installation, which can generate toxic fumes and potentially cause a fire. Copper plumbing is also commonly soldered with toxic materials which can leach into the water, and the pipe itself can be corroded by the elements, causing leaks, and may build up scale which interferes with the plumbing. The expansion and contraction of copper over time in response to temperature changes can also contribute to the formation of leaks.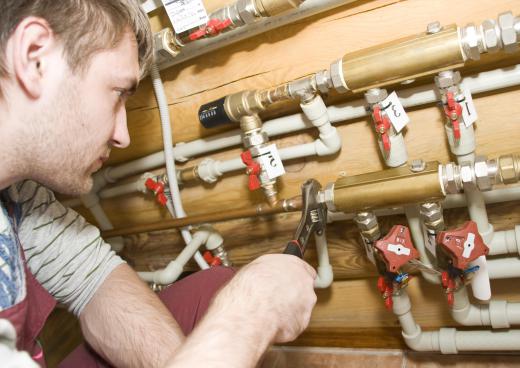 PVC plumbing has some disadvantages, as well. It tends to be loud, which makes it unpopular for some settings, and it is very sensitive to heat and cold. In areas where temperatures get low, PVC piping needs insulation. For high temperatures, some people prefer to use CPVC, which has a higher temperature tolerance. PVC also has a relatively narrow range of sizes, which can become a problem on complex plumbing jobs.
When evaluating plumbing options, it is a good idea to talk with a plumber. Plumbers can provide information about choices, and they may make recommendations for specific structures, settings, and customers. Especially when pipes need to be replaced, people should talk with their plumbers, because plumbers may install PVC piping since it is easy, and the plumber may assume that savings generated by using cheaper materials will be appreciated. If people specifically want copper or another material, they will need to ask for it.
AS FEATURED ON:
AS FEATURED ON:







By: Vladimir Konjushenko

PVC pipes are used in plumbing around the world.

By: Nomad_Soul

Plumbers can work quickly with polyvinyl chloride, or PVC, pipes.

By: Sergejs Katkovskis

Copper piping is the primary alternative to PVC pipes.

By: auremar

PVC plumbing should be connected using a high-quality solvent cement.