What is a Companion Flange?
A companion flange is a flange that corresponds to another flange. Having bolt holes that align with another flange is a trait of this type of flange. The companion flange is an important component of a pipeline or a plumbing system. In most situations, this flange is attached to the flange of another pipe and then the pipeline is assembled to fit tightly between the two flanges. A threaded companion flange is also used on a plastic pipe when adding a threaded iron pipe into the pipeline.
On a typical pipeline, changing pipe size and dimension is typically accomplished by placing a reducer into the line. When changing pipe size on a section of pipeline that might be removed, a companion flange is used to allow a simple dis-assembly of the pipe in the future. By placing a flange in the pipeline and using a gasket to seal the two sections, a joint is created that offers easy access in case of a plumbing emergency. The companion flange is also a convenient way to allow for expansion to the pipeline in case of future construction additions.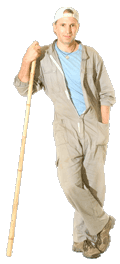 There are many types of companion flanges made out of many different materials. This makes it possible to blend two or more types of plumbing into a single system without having to replace the entire system. Copper can be added to a plastic system as well as iron pipe to a brass fitting, and so forth. The blending of the different materials requires only a matching flange and a gasket. Often, an anti-seize compound is used on the fasteners of two different material flanges. This is important to avoid oxidation and rust.
It is common practice for a plumber to install an access point into a plumbing line to make removal of a clog an easy matter. The installation of a flange to seal the inspection opening is also used to tie in future plumbing lines when the addition of more lines becomes necessary. It is for this reason that the companion flange on the access point is often a closed flange used to seal an open pipe. The closed flange can be changed out in the future should the requirement for it to be changed present itself. By placing flanges within a pipeline, the pipeline becomes a less confusing component to a building or system and makes future additions or subtractions an easy to perform task.
AS FEATURED ON:
AS FEATURED ON:







Worker