Pressed wood is a type of material made from wood fibers or particles that are pressed together to form a cohesive unit. Some sort of bonding agent, such as strong glues, can be used to help the particles to stick together, and heat is usually applied during the process of creating the pressed wood. This inexpensive material has many uses, from hauling in pallet form, to furniture building or even for creating attractive veneers. While the wood is inexpensive and relatively versatile, it is not usually very strong, and it can break down fairly easily when under load.
Particleboard is an example of pressed wood. This material is commonly used for making inexpensive pieces of furniture such as desks or dressers. The wood particles are pressed together and an adhesive is used to form a cohesive structure. The wood tends to be fairly lightweight, and it is durable to some degree. Particleboard can chip fairly easily, however, so a wood veneer is usually glued over it to prevent damage from direct impacts. The veneer can mimic the grain and tone of solid woods, meaning this wood product can be made to look reasonably attractive.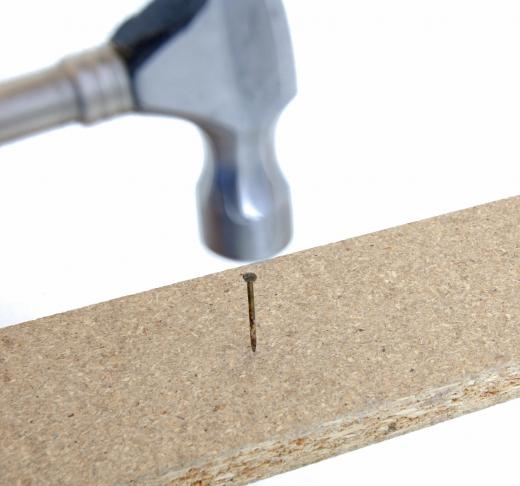 Medium-density fiberboard (MDF) is another type of pressed wood that is made exclusively from hardwood and softwood fibers rather than from a composite of fibers and veneers. MDF tends to be much denser than particleboard, making it much stronger. Like hardwoods and softwoods, MDF can be cut, glued, or nailed, though some nails may not hold very well. When the MDF blanks are cut, a fine dust is released into the air, and this dust can be hazardous to the cutter's health, since the bonding agent used in creating this pressed wood usually contains formaldehyde. Respirators must therefore be worn when cutting MDF.
Since pressed wood tends to be inexpensive, manufacturing companies often use such woods for pallets, which are wood frames used to store and lift heavy objects using a forklift. Pallets come in a variety of styles, shapes, and sizes, and pressed woods can be altered fairly easily into custom shapes to suit a manufacturer's needs. The pallets can, for example, be designed to be stackable when they are not in use, thereby cutting down on required storage space. If the pallet breaks, the business will not take a significant loss on cost, since the pallet is inexpensive to begin with.
AS FEATURED ON:
AS FEATURED ON:







A nail being driven into a piece of pressed wood.

By: vivat phuakladprao

Melamine covered particle board.

By: Andrzej Solnica

A face mask and eye protection should be worn when working with MDF, a type of pressed wood.

By: Dmitry Pistrov

Some furniture is made more attractive and sturdy through the use of a veneer covering.