Porous concrete is concrete that is designed to trap water and allow it to percolate through to the ground below. There are a number of advantages to this type of construction, which have caused it to become a popular option for things like sidewalks, driveways, and parking lots. It is especially popular with ecologically conscious construction companies, since it helps to manage water runoff in a sustainable way. Many so-called "green" builders promote its use in their projects.
There are a number of alternate names for porous concrete, including permeable concrete, porous pavement, and pervious concrete. All of the names basically mean the same thing: it's a form of concrete that is permeable, rather than solid. Porous concrete is made by mixing large aggregate material with mortar, creating lots of voids in the cast concrete. When water lands on the material, it trickles through the voids and into the ground below.
For people who are concerned about the environment, porous concrete is attractive because it traps water, rather than allowing it to drain uselessly into the ocean. It can help route storm runoff and rain directly into the soil, where it can nourish gardens and trickle down into the water table. It also comes in a range of colors, and it can be made with recycled materials including recycled concrete rubble. This flexibility and potential for recycling makes it an ecologically friendly and aesthetically pleasing building material.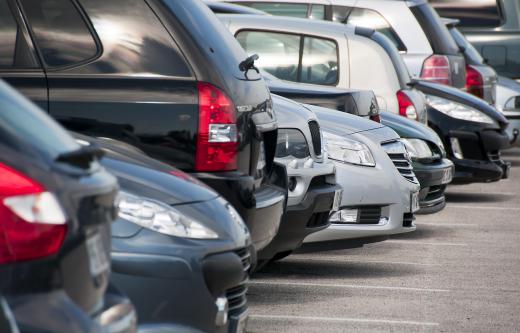 From the point of view of a contractor, porous concrete has some distinct water management advantages. Instead of allowing water to pool, it sucks up water and wicks it away. This prolongs the life of the concrete, and it also makes it safer for people driving, walking, and biking on it, since they do not have to contend with pools of water. While extremely wet conditions will eventually overwhelm the concrete's absorption capacity, it is still a better drainage choice than tightly packed concretes.
Because porous concrete does have a lot of empty space, it is not suitable for all building applications. There are specific requirements for structural concrete, for example, to ensure that it will be safe and sound, and porous varieties may not always meet these specifications. It can be used safely for pathways, concrete patios, driveways, sidewalks, and so forth. Some companies also cast bricks and tiles in it for people who want to build their own tiled walkways.
AS FEATURED ON:
AS FEATURED ON:







By: Pictures news

Porous concrete is designed to trap water and allow it to trickle down to the ground below.

By: Marc Xavier

Porous concrete is ideal for creating parking lots.

By: podsolnykh

Porous concrete may be used in driveways and sidewalks.

By: alisonhancock

Permeable paving can be installed in streets to prevent standing water in the road.