What is Plastic Cladding?
Plastic cladding is a type of construction material often used on the exterior and interior of a building. On the exterior of a building, it usually is called siding and may be polypropylene or polyvinyl chloride, often referred to as PVC or vinyl siding. It may also refer to plastic roofing. Inside the building, plastic cladding may cover the walls or ceiling. Cladding does not support the building, but protects it from the elements.
Polyvinyl chloride siding became available in the 1960s. By 2003 in the US, American manufacturers produced approximately four billion square feet (about 371,612,160 sq m) of vinyl siding. Two of the many reasons for its rise in popularity include its lower cost and lower need for maintenance than that of traditional materials.
The product usually resists rot, fading, corrosion, discoloration, and rust. Even though it is lightweight, as an exterior product it typically protects the building from the elements, such as rain, sun, and wind. Most of the plastic cladding resists pollution, UV rays, and salt water. Ceiling and wall panels may provide a high standard of hygiene to the rooms because they resist accumulating dirt and moisture and are easy to clean. Hospitals and other buildings that require a high level of hygiene often use plastic cladding in their rooms.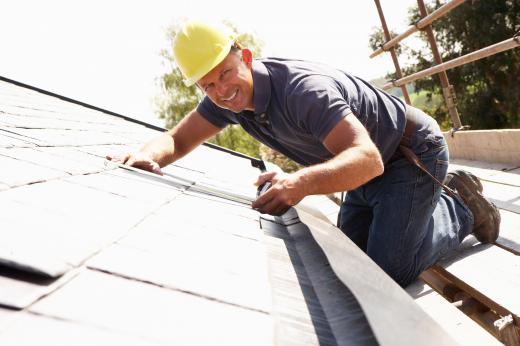 Aesthetically, plastic cladding may make a building more attractive. Manufacturers produce it in various sizes, textures, and colors. Some of the textures might include wood grain, stone, and other surface detailing. Available colors range from whites, creams, and pastel colors to deeper hued colors. Builders usually install it on any style of building, from traditional to modern, giving it a wide range of versatility. Some roofing designers make castings of actual slate, cedar shingle, or mission tile materials and produce lightweight roofing tiles that resemble the traditional material.
Plastic cladding roofing can weigh up to one-third less than traditional clay tiles. Some of the plastic roofing resists hail, high winds, and fire. Since it often comes in a wide variety of colors, textures, and sizes, it usually is easy to incorporate into any house design.
Some environmentalists and health professionals question the safety of plastics, including plastic cladding. Assorted studies have suggested the manufacturing process of PVC products is hazardous to humans and animals. Others say that disposing of PVC into landfills might pose an environmental threat. Numerous groups are concerned about the health risks from vapors emitted from the material while it is burning. Some people complain that, despite what manufacturers claim, their siding has discolored and warped and become brittle and cracked.
AS FEATURED ON:
AS FEATURED ON:







By: Wendy Kaveney

Vinyl siding is affordable and has very little maintenance.

By: Monkey Business

Builders usually install plastic cladding on any style of building, from traditional to modern, giving it a wide range of versatility.