Offset printing, sometimes also known as "offset lithography," is a very common modern printing method that involves setting images and words on paper through a series of metal plates and rubber mats. It is very efficient and almost always computer-driven. The method is called "offset" because the material to be printed isn't pressed directly onto the page or other medium, but rather is first distributed to a metal plate, then to a rubber mat, and only then imprinted. Ink is usually evenly distributed from an internal jet system, and can automatically assign different colors to different regions as directed by a computer managing system. These machines generally offer a lot of flexibility when it comes to what, exactly, is being printed; most can handle anything from newspapers and glossy magazines to CDs and fabrics of varying thicknesses. Users typically have to reset the machine and alter its controls to achieve different outcomes, but in general the devices are quite flexible.
Printing Press Basics
The main idea behind a printing press is efficiency. Presses allow for the mass-distribution of a wide variety of materials. Once creators design the original, the machine does the rest, making as many copies as needed. Compared to today's options, the original printing presses were quite cumbersome to use. Technicians had to individually set each letter of each page, then apply ink; only then could paper be pressed on top, making an imprint. This method was still more efficient than individually stamping or inscribing each page, since once the presses were set multiple pages could be printed relatively quickly; getting there, though, often took a great deal of patience and discipline. The offset method is a modern improvement on these largely manual machines.
How the Offset Method Works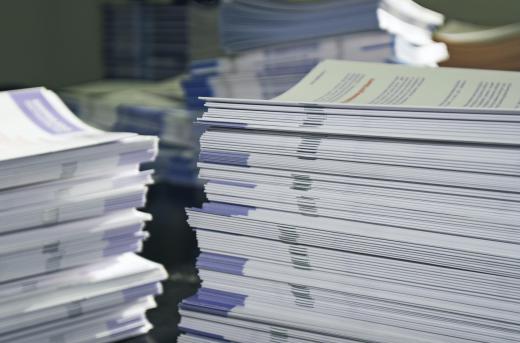 In offset printing, the ink is not pressed directly onto the paper but rather is distributed from a metal plate to a rubber mat where it is then set and pressed. The images to be printed are created on a computer and then "burned" onto metal plates using a chemical developing process similar to photography. From here the metal plates are dampened with water, which adheres to the areas without images; the ink is added next, one color at a time, where it sticks to the areas with images.
The most modern systems use a direct-to-plate system in which the images are burned directly to the metal. Omitting the secondary step saves time and money, though the overall quality can be lower.
Color Spectrum
The colors used in offset presses are usually cyan, magenta, yellow and black. Each color is represented with the first letter of its name with the exception of black, which goes by "K"; the resulting spectrum, then, is often listed in the literature as CMYK. K is used to represent black to ensure that there isn't any confusion with blue, which is usually assigned "B."
Different percentages of each colors in the CMYK spectrum create virtually every color used in offset printing. There are color matching systems, such as the PANTONE® system, that allows print buyers to see the color. The code for that desired color can then be entered into the offset printer's computer and it will calculate the percentages of each color that need to be used.
Paper and Printing Options
There are a couple of different options when it comes to medium, which is to say, what the machine is actually using as a material for printing. Sometimes the device uses what's known as a "web" printing press, which uses huge rolls of continuously fed paper; most machines can also use a sheet fed press that, as its name might suggest, uses individual sheets of paper. Alternatively, things not paper, like multimedia, can also usually be printed on single sheet-style devices.
In general the offset method uses all of the latest technology in printing, including computers that aid in design. Computers are also used to generate instructions for the mixture of ink colors as well as their distribution to the paper.
AS FEATURED ON:
AS FEATURED ON:







By: vipman4

Offset printing is used to make labels for DVDs as well as to print the case covers.

By: SimFan

Offset printing is used to make books, brochures, business cards, posters and a host of other types of print goods.