What is Letterpress Printing?
Letterpress printing is a printing technique which has been in use in the West since the 15th Century, when it was used by Johannes Gutenberg to manufacture the Gutenberg Bible. There has been some debate over whether letterpress printing was first developed in the East or West, with some suggestions that Chinese texts were printed using a similar method before the Gutenberg Bible. Letterpress printing remained the primary way to print and distribute information until the twentieth century, when offset printing was developed. It was also an extremely important technological innovation, making printed material available to a wider range of classes of people.
Letterpress printing involves locking movable type into the bed of a press, inking it, and rolling or pressing paper against it to form an impression. Predecessors of letterpress printing had been around for hundreds of years, with both East and West making prints from woodblocks and carved engravings. However, Gutenberg is usually credited with the introduction of movable type, which could be reset and reused. Movable type revolutionized printing techniques, because each page of a book no longer represented an individually carved woodblock or engraving. A fast typesetter can set a page in only a few minutes.
The parts of a basic letterpress include a press bed where the type is set up, rollers for ink, and a tympan, which is a tightly stretched drum or disc on which the paper is mounted. Some presses roll the tympan across the bed of the press to print, while others press a flat tympan against the bed for an impression. For multiple colors, multiple passes of the press must be taken, unless the printer uses a split fountain technique where several colors of ink are spread on the rollers.
While it is not in common use, letterpress printing is valued by some artisans. High quality papers and inks are used to create an especially lush impression, and the technique is sometimes used for special invitations, announcements, and art projects. Items printed on a letterpress can be readily identified by the impressions of the letters, which punch into the paper slightly and create a raised effect of the back of the printed product.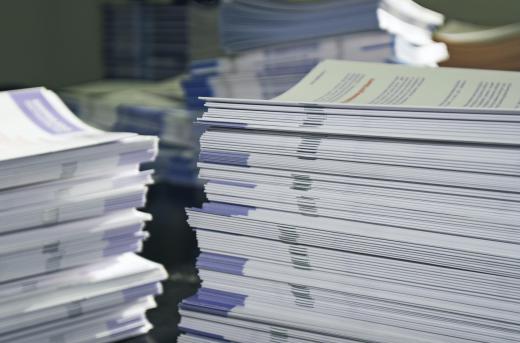 Letterpress printing is more time consuming than offset printing, resulting in higher cost. Several methods have been developed to make the process more efficient. Type for letterpress printing is made from lead, which is soft enough that it will not damage the paper. When the technique was in common use, newspapers often relied on linotype machines, which cast entire lines of type in hot lead. After the paper was printed, the lead could be melted down and reused.
Today, many printers do not hand set their letters, relying on photopolymer plates instead. Small print shops still hand set their type, and are usually happy to offer tours of their facilities to those who are interested in learning more about letterpress printing.
AS FEATURED ON:
AS FEATURED ON:







By: Juulijs

Johannes Gutenberg is usually credited with the introduction of movable type, which could be reset and reused.

By: Lincoln Rogers

Letterpress printing was first used in the West to print the Gutenberg Bible, which allowed more wide-spread distribution of the sacred text.

By: SimFan

A typesetter may be hired by firms that produce one-of-a-kind pamphlets and brochures.