What is Construction Waste Management?
Construction waste management is an area of the waste management field which is focused on waste associated with construction, including waste from new building sites, home renovations, and demolition of existing structures. Historically, such waste was uniformly collected and landfilled, but in the 1970s, construction waste management became more complex, as people started to address concerns such as environmental worries and the desire to recycle materials, when possible.
Waste materials generated during construction can vary considerably. No longer is everything on a construction site destined for burial in a landfill. Waste materials may include things which could be recycled, such as old fittings and wood from a home being demolished which could be sold to a salvage company and reused, along with recyclable materials like metal and plastics which could be sent through a recycling facility.
Some construction waste is hazardous. Waste materials from older structures may include contaminants like lead and asbestos which need to be handled carefully and disposed of in a special way. It can also include chemicals which are dangerous, along with hazards like rusty nails, sharp objects, and so forth which need to be handles with care. Hazardous construction waste management requires an entirely different set of protocols dictating everything from how the waste should be handled at the site to the gear required by people who handle the waste.
Waste from construction and demolition which ends up in the landfill can be collected in a large rubbish bin on site and periodically taken to the landfill for disposal. A growing awareness of the desire to avoid landfilling in the course of construction waste management has led many construction companies to try to cut down on landfilled waste with tactics such as recycling and reuse. On a given construction site, numerous bins may be set aside for the collection or recyclables and reusable materials, and a construction worker may act as an auditor, ensuring that things do not end up in the wrong container.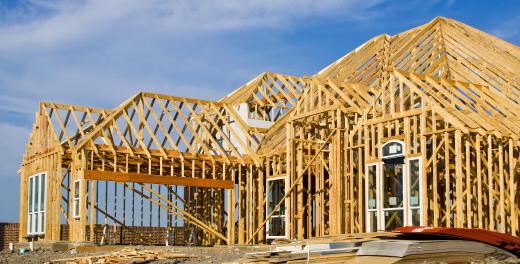 The volume of construction waste can be considerable. This requires special waste management contracts between construction companies and waste management companies to ensure that enough containers are provided on site to accommodate the amount of waste which will be generated. These contracts also include agreements to identify and contain hazardous waste, and to comply with any regional laws concerning waste disposal. Companies which want to market themselves as sustainable may engage in additional programs to limit waste as part of their construction waste management plan.
AS FEATURED ON:
AS FEATURED ON:







By: Vely

Demolition of a structure creates construction waste.

By: atm2003

A large amount of demolition waste is often hauled off and dumped in landfills.

By: leekris

Construction waste includes waste from new building sites.

By: ndoeljindoel

Construction waste management focuses on waste from building sites.