What is Chemical Waste Management?
Chemical waste management is a branch of the waste management field involved with addressing chemical waste, ranging from photography chemicals used in home darkrooms to chemical byproducts of manufacturing. If chemical waste is released into the environment, it can cause a number of problems which can impact environmental and human health, ranging from explosions caused by unexpected reactions to pollution of waterways which causes fish to die.
Chemical waste can take a number of forms. People are sometimes surprised to learn that some household waste is technically considered chemical waste, and technically should not be disposed of in regular garbage. While people may not think of things like a partially used bottle of hydrogen peroxide or rubbing alcohol as dangerous, these waste products are in fact chemical waste, because they can contribute to problems if they are disposed of in a conventional landfill. Essentially, this type of waste includes any chemicals which are active or potentially dangerous.
As with all branches of the waste management field, the primary goal of chemical waste management is to reduce the production of chemical waste, thereby cutting down on the amount of material which needs to be handled. Proper handling of chemical waste in the area where it is generated is important, as are containment and storage while the waste waits for pickup by a company which is authorized to handle chemicals. Chemical waste management also includes long-term solutions for chemical waste which are designed to destroy, neutralize, or secure chemical waste so that it is no longer dangerous.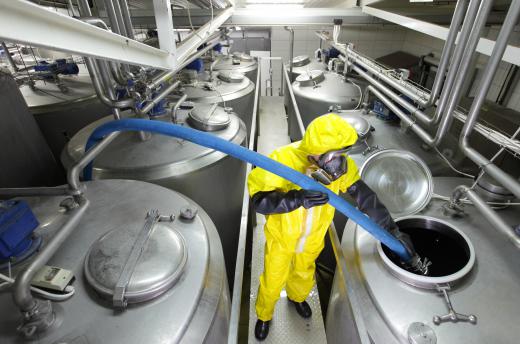 Many waste management companies offer chemical waste management services to their customers. Households can take advantage of periodic hazardous materials pickups to safely get rid of chemical waste, while companies which routinely generate chemical waste can get a chemical waste management contract. The contract may include storage containers and identification tags for chemical waste in addition to regularly scheduled pickups of chemical waste.
Another aspect of chemical waste management is cleanup and removal of chemical waste. In the wake of a chemical spill, for example, waste management professionals are part of the response team which tries to contain and clean up the spill. Chemical waste professionals are also involved in environmental remediation of sites which have been contaminated by chemical waste, as in the instance of a former factory site which has unsecured chemical waste on the premises which must be addressed before the site can be cleared for general use.
AS FEATURED ON:
AS FEATURED ON:







By: endostock

One aspect of chemical waste management is removal of hazardous chemical waste.

By: endostock

Federal and local laws require specific procedures for disposing of chemical waste at manufacturing plants.