Brick cladding is an exterior facing for a structure which is made from brick. While cladding typically does not bear weight, thus not contributing to the stability of a structure, it plays a number of important other roles in a building. Examples of brick cladding can be found all over the world, and brick is also a very ancient building material which has been used by many human cultures. For safety reasons, this type of cladding is sometimes not recommended in seismically active areas, where bricks could collapse during an earthquake, causing injuries or property damage.
Cladding essentially comprises the external envelope of a building, the layer of a structure which protects the inside. Brick cladding is designed to shed and repel water so that the water cannot reach the internal framing of the building. This reduces the risk of damage to the framing caused by mold and mildew. It also keeps water out of the inside of the structure, keeping the interior dry and pleasant.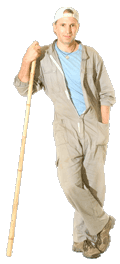 Another function of cladding is to absorb some impacts, and to provide some insulation. The multiple layers of a building are designed in part to trap air, creating an insulating barrier which keeps temperatures stable. The more layers of insulation, the less climate control is needed, because the climate control is built into the structure. Impacts such as high winds and collisions with object can also be absorbed in part by the cladding, protecting the structural elements of a building.
Brick cladding also plays an aesthetic role. It's the part of the building which people see, and therefore can shape how people perceive the building. Bricks can be run in a variety of patterns or courses to create visual interest, and sometimes different types of courses are used on the same structure for the purpose of texturing and layering the building to make it more aesthetically pleasing. This type of cladding can also feature multicolored brick and brick of different sizes for even more variation.
Brick cladding is traditionally installed by a mason, who may work with a team for reasons of speed. Some companies make false brick facing which can be attached by general contractors. This type of cladding is less expensive than true brick, and is suitable for use in areas where brick construction may not be recommended. It can vary in quality from very believable facsimiles of brick to cladding which may appear slightly off to the observer.
AS FEATURED ON:
AS FEATURED ON:







Worker