What is an Overflow Valve?
An overflow valve is a device commonly used in plumbing, electricity generation, and other applications in which pipes conduct pressurized materials to maintain pressure on the line above the valve. It can also be installed as a safety device to prevent pressure buildup, and when used in combination with sensors and alarms, it can alert an operator to a problem along the line. Many consumers have a valve or two around their homes, especially those who use propane fuel for heating and cooking. In most cases, it has a pressure dial mounted on it, indicating the condition of the line.
This valve works by sensing the pressure up pipe from itself. It has a specified pressure level, which it maintains by use of a coil spring mechanism, which opens when the inlet, or downstream pressure, begins to rise while the upstream pressure goes down. In an emergency situation in which the inlet pressure is too high, some overflow valves are designed to alert operators, while others may fail. Individuals intending to install this type of valve should consider their needs and select the most appropriate one.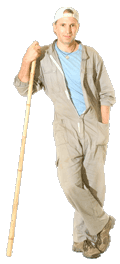 When installing an overflow valve, it is recommended that the rated pressure exceed the maximum system pressure, which will prevent failure except in the case of extreme catastrophe. The installation of a safety shut off valve up pipe from the overflow valve can also be used to prevent excessive pressure within the system. It is also recommended that they be protected from particulate matter that may be carried in the piping by use of an installed and frequently serviced filter down the pipe.
Usually, cut off valves are located up pipe and down pipe of the overflow valve, allowing access for maintenance and replacement. If total shut down of the system is not a possibility, be sure to install a bypass line so that the system can continue to operate while the valve is being serviced. In the case of hazardous materials, an overflow valve should include good seals and a leakage line to contain potential spills.
AS FEATURED ON:
AS FEATURED ON:







Worker