What is Aluminum Welding?
Aluminum welding is the process of fusing two pieces of aluminum together using high heat. This process is considered one of the most difficult welds to make due to the physical factors of the metal. One of the most important steps in creating this weld is proper cleaning and also proper use of the welding equipment. The welding equipment, however, poses a serious safety threat to users.
The process of aluminum welding is traditionally performed with a TIG welder that utilizes a separate roll of wire to create the weld, essentially soldering the wire and metals together. A welder operates by feeding argon gas from a tank to a welding gun. The gas is ignited at the end of the gun and creates an intensely hot flame, with a high enough temperature to melt metal. Aluminum parts are fused together when the wire is placed where the weld will take place and the torch is applied. Two pieces of aluminum become welded when the molten wire acts as a glue to fuse them together.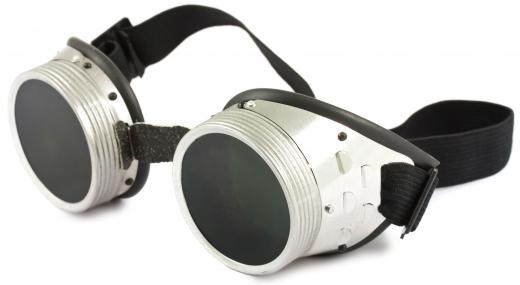 Aluminum welding is simple to perform in theory, but physical factors of the metal make this a challenge for even seasoned welders. Aluminum has a high conductivity temperature and a low melting point. These two factors make finding the right welding torch temperature and necessary welding speed difficult. Often, it takes a great deal of practice with scrap metal before truly gaining a feel for this technique.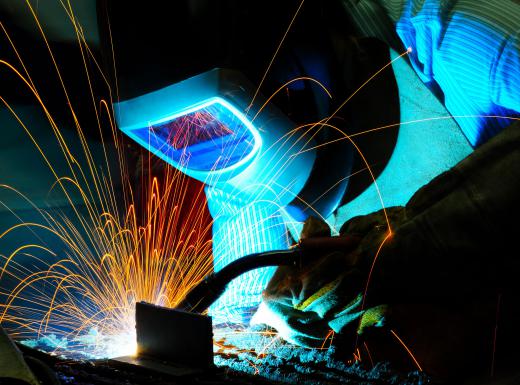 One overlooked element of successful aluminum welding is proper cleaning. Even newly purchased aluminum that appears spotless is dirty with aluminum oxide and will hinder the welding process by creating pools and bunching up wire. Removing aluminum oxide is a simple process that requires a stainless steel brush, solvents and etching solution. Pouring the liquid over the metal and gently scraping with the brush will help ensure a smooth weld.
Safety is another overlooked part of aluminum welding. Most welders use a welding mask and gloves, knowing that dealing with sparks and hot metal can result in heavy burns. Long sleeves are another strong consideration. The TIG welder emits the highest amount of UV rays of any welding equipment and can result in severe burns when skin is not protected.
AS FEATURED ON:
AS FEATURED ON:







By: mbongo

Welding goggles.

By: NorGal

High heat is used to fuse two pieces of aluminum together in aluminum welding.