A forge is a type of hearth used to contain fire and coals to heat metal. This metal is then shaped by a blacksmith into usable products. The specific layout and function of a forge can vary significantly, and the fuel source for the fire will have an effect on the system's usefulness for the blacksmith. The coal system is perhaps the most traditional and still the most used, though gas forges now exist and are commonly used because of their ease of use, cleanliness, and low cost.
A coal forge is comprised of several components: the fire pot, the hearth, the tuyere, and the blower. The fire pot is a container of sorts that holds the coals being heated by the fire. This is also the location of the actual flames of the fire; the hearth surrounds the fire pot, and extra fuel sits here when it is either waiting to be burned or after it has been burned into coke, or burned coal. The air blower is a more modern version of a bellows. Both are instruments that force air onto the fire and hot coals to help them burn hotter. The air blower is electric in many cases, and it can provide a steady stream of air throughout the metal working process.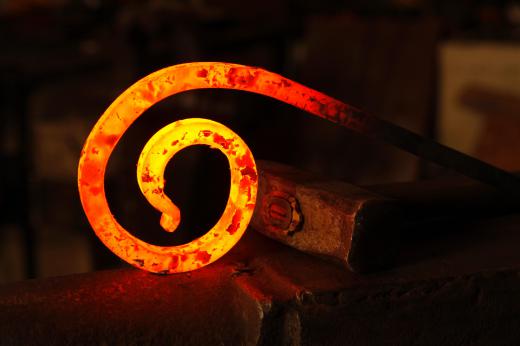 The tuyere is a part of the forge that connects the air blower to the fire pot. It helps direct the flow of air to ensure it reaches the fire pot quickly and efficiently. The tuyere may also feature an ash dump that helps prevent buildup of ash that can block airflow. This pipe is usually made of some heat-resistant metal.
Another common type of forge is the propane forge. This system uses propane gas to create a flame instead of coals. Many beginners choose this type of system because it is far easier to manage than a coal system. The propane is guided from a tank or feed line through a hose that attaches to a burner mounted inside the heating cylinder. This burner can produce a significant amount of heat depending on its size. The inside of the cylinder is usually lined with some sort of material that is resistant to heat damage; ceramic is a common choice for this application. The temperature of the cylinder can be maintained easily by adjusting the feed of propane.
AS FEATURED ON:
AS FEATURED ON:







By: walko44

A blacksmithing forge allows coals to be heated to a sufficient temperature for heating and bending metal.

By: branex

A blacksmith may choose between coal- or gas-fired forges.