A tunnel kiln is a type of continuous kiln that is typically open on both ends and heated centrally. Materials, such as bricks, may be passed through the device in an uninterrupted fashion, allowing large volumes to be processed without shutting off the kiln between batches. The simplest tunnel kiln consists of a single heat source in the middle of the device, with the materials slowly heating and subsequently cooling as they pass through it. More complex versions may be sealed to the outside atmosphere, provide multiple heating and cooling stages, and offer a variety of interior atmospheric conditions.
The tunnel kiln has a variety of applications across many different industries, but is typically used in large production operations. It may use a moving belt as a method of conveyance through the device, a truck system, a pusher plate, or a number of other options. Regardless of the particular design, the object of the device tends to be to process a large amount of material in a continuous manner.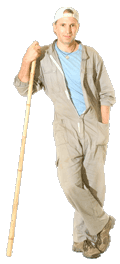 A number of different methods can be used to heat tunnel kilns. Typical heat sources include electrical heating elements and gas-fired units, with dual heating systems also existing. Some may also conserve energy by capturing heat at the cooling end and recirculating it to help pre-heat materials that are entering the device.
Materials like bricks, tiles, and ceramics are some common products that may be mass-produced with the aid of a tunnel kiln. Products like these may also be fired using an intermittent kiln, though that involves loading the device, sealing it off, and then unloading it for each new batch. Tunnel kilns provide the benefit of a continuous process, such that some materials are beginning to heat at one end of the device, while others are being fired in the middle, and still more are cooling down at the far end.
More complicated tunnel kilns may be designed to process other types of materials that require specific environmental conditions. This can result in a tunnel kiln that has tightly controlled atmospheric and heat specifications. Some designs may incorporate multiple temperature zones and atmosphere types in a single unit. These highly regulated systems can be used to process things such as solar cells, oxygen sensors, and rare earth elements. Electronic components, like varistors, thermistors, and capacitors, may also be processed, while other industries may create advanced ceramics or various phosphors.
AS FEATURED ON:
AS FEATURED ON:







Worker