A motor found on top of many oil drilling rigs is the top drive. It turns the drill string, which is a length of steel pipe, so that it can make the borehole, or hole made by drilling. By rotating the mechanism on the top of the rig, the drive generates the drilling motion.
The top drive is located near the bottom of the oil rig tower. It hangs suspended from a hook on the rig's derrick so that it is able to move freely. The motor rests near the swivel place, a mechanism that further enables rotation of the drill string and hangs just over the drill floor, or pad, which is the point at which the drill string enters the ground.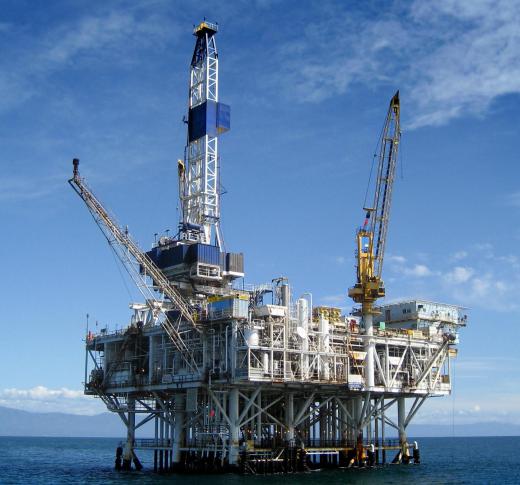 Different types of top drive are categorized according to their intended purpose, size, motor type, and the safe working load (SWL), or maximum safe weight that can be handled by a particular model. A top drive motor is typically either electronically or hydraulically powered. There can be one or more motors in the device, depending on power requirements. Land rigs have the smallest top drives, while offshore drilling requires the biggest, most powerful models.
Another older mechanical option for drilling boreholes is the rotary table. One of the drawbacks of the rotary table is that it can only handle one half to one third of the length of drill string as the top drive. The rotary table also can't handle swiveling motion on its own and thus needs additional equipment such as kelly bushings and a kelly bar. It also requires more manual labor to function properly. For these reasons, it has come to be replaced by the top drive in many modern rigs.
Top drives are also desirable because they are safer, primarily because they require less maintenance and thus provide fewer opportunities for accidents. They also operate more efficiently, which reduces labor needs. The powerful top drive also gets stuck less frequently than the rotary table, another element that increases safety and efficiency.
As top drives require less equipment to operate, they also make it faster and safer to make changes in the mechanism. Due to their ability to handle more than one pipe, they offer more flexibility as well. The shorter stands of pipe are easier to move in and out of the drill hole. They also take less time to remove from the ground than the longer pipes used for rotary tables.
AS FEATURED ON:
AS FEATURED ON:







By: eyeidea

An offshore oil platform. A top drive is an important part of oil well drilling.

By: lightmoon

The top drive would be found at the very top of an oil derrick.