A threader is a kind of device that helps pull threads into a small space. The act of threading is most often seen when placing a small thread made of some kind of textile into the small circular space on one end of a needle. A threader, however, does not only refer to sewing, as it can be used for the threading of other types of materials like electric wiring and pipes. These devices are essential for machinists to cut electrical wires or pipes, and are also used for automotive purposes. There are many different types of threaders within each field, and they all serve different purposes.
The simplest kind of threader is found in sewing kits as well as sewing machines. Some sewing machines have threaders that help thread needles by having the chosen thread fed through the machine. The device consists of a separate threading hook, a member that attaches to the thread that is passed through the needles, a component that holds the thread in place while the machine operates, and a lever to control the parts of the device. With the member attached to a thread, this threading hook reaches for it and grabs hold, pulling the member as well as the thread through.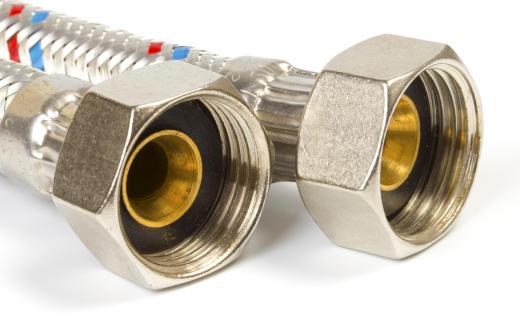 Another kind of tool is the pipe threader, which is more industrial and heavy duty. This type of threading device is mechanical and electrically powered, having a motor that performs strong work on pipes. The device is also lightweight and compact, making it a portable device that can be taken to on-site jobs in construction or maintenance of a home. This threader tool is used to cut pipes greater than an inch thick by having the pipe contained within a holder to keep it in place while the tool cuts through its entire diameter.
One type of professional threader which bike shops often use is a tool that cuts and threads bicycle spokes. This device has a holder for holding the spoke of a bicycle, with one end that exposes the spoke and the other end with a cutter where the threading or cutting process takes place. The cutter is positioned in a manner so it may cut a spoke at some decided location. An apparatus for threading the cut spoke is placed adjacent to the cutter, providing an efficient operation of both processes.
AS FEATURED ON:
AS FEATURED ON:







By: injenerker

With threaded pipes, plumbers and other workers can screw several pipes together.

By: U.A.

Spokes are threaded at one end to allow them to attach to wheels.

By: dulsita

Sewing machines may have threaders that help thread needles by having the chosen thread fed through the machine.